Stereophonic mixing and mastering is a hot topic in the audio industry, and PRONEWS has selected the latest microphones and mixers related to filming. Let's check out the new microphone products that are appearing one after another from each company.
01 All-in-one sound production studio "Roadcaster Pro II"
Ginichi [#4505]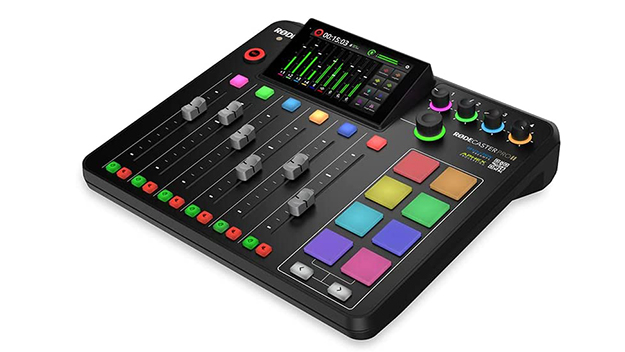 This year, Ginichi will exhibit at two separate booths: the Video Production/Broadcast Equipment Section and the Professional Audio Section. In the Pro Audio section, RØDE Microphones' "Roadcaster Pro II" and "NTH-100" and AATON DIGITAL's "Canter X3" will be on display.
Attention is the sound production tool "Roadcaster Pro II" for content creators. It features a low-noise, high-gain REVOLUTION preamp (-131.5dBV EIN, 76dB gain) and four high-quality combo inputs for connecting microphones, instruments and line-level gear.
02 Shotgun Microphone "SGM-250H"
Azden [#4504]
The directional microphone 250 series (SGM-250, SGM-250CX, SGM-250MX, SGM-250H) will be exhibited. The main exhibit is the SGM-250H. A 250mm phantom-powered, super-directional shotgun microphone with a long interference tube design to achieve sharp directivity, and an ECM unit that has also been improved based on the one used in the SGM-250. A reference exhibition of the successor model of the compact microphone adapter "MC-1" is also planned.
03 Digital mixer "TASCAM Sonicview" Tascam
/TEAC [#4402]
An exhibition specializing in digital mixer solutions will be held. The digital mixers TASCAM Sonicview 24 and TASCAM Sonicview 16 announced in May 2022, the Dante stagebox "SB-16D" for input/output expansion, option cards and options will be exhibited.
The TASCAM Sonicview 24 and TASCAM Sonicview 16 are next-generation digital mixers with 96kHz operation and multi-color touch screens. It features a high-performance Class 1 HDIA mic preamp newly developed using TASCAM's know-how and technology, and a 54-bit float FPGA mixing engine that achieves ultra-low latency sound quality and specs. In addition to intuitive operability with multiple color touch screens based on the VIEW interface concept, 7-layer custom faders that can be freely assigned and various I/O standards such as Dante I/O, USB I/O, and GPIO It features equipment.
04 On-Camera Shotgun Microphone "MKE 400-II"
Sennheiser Japan [#4104]
We exhibited wireless microphones, monitor earphones, monitor headphones, gun microphones, and on-camera microphones. The highlight of the company's booth is the gun microphone / on-camera microphone "MKE 400-II" released on January 27, 2022.
The MKE 400-II is a compact, highly directional on-camera shotgun microphone designed to enhance the audio in your videos. Like the MKE 200, the MKE 400-II has built-in wind protection and shock absorbers, and has enhanced features for high-quality recording.
For the first time in Japan, we are planning to exhibit the wireless microphone "EW-DX Demo Rack 8U" and the "MD 435 S", which is a customized ready-made product.