RAID, which handles RED Digital Cinema cameras sales in Japan, held the "KOMODO-X ST unveiling party" on May 23, 2023, where users can experience the new products of the KOMODO series. The venue was Kokihibun in Minato-ku, Tokyo, and a large number of people involved in the film industry gathered.
If one was to mention the biggest feature of KOMODO-X, it would be the doubling of the frame rate. The maximum frame rate of the original KOMODO was 6K40fps and 4K60fps, but KOMODO-X supports 6K80fps and 4K120fps. The original KOMODO was said to be weak at high speeds, but the KOMODO-X has improved steadily.
The original KOMODO and KOMODO-X are equipped with a 6K S35 global shutter sensor, and although the resolution has not changed, the sensor has been renewed. Improved dynamic range. The original KOMODO had a dynamic range of 16 stops or more, but the KOMODO-X has improved performance to achieve 16.5 stops or more. Slightly, but an improvement.
KOMODO-X has increased feature sharing with the DSMC3 series while maintaining a small form factor.
The original KOMODO batteries were compatible with two Canon BP series batteries, but the battery mount was made of plastic and there was concern about durability. KOMODO-X is compatible with Micro V-Lock, allowing Micro V-Loc batteries to be attached securely. It can be said that the sense of security has become stronger.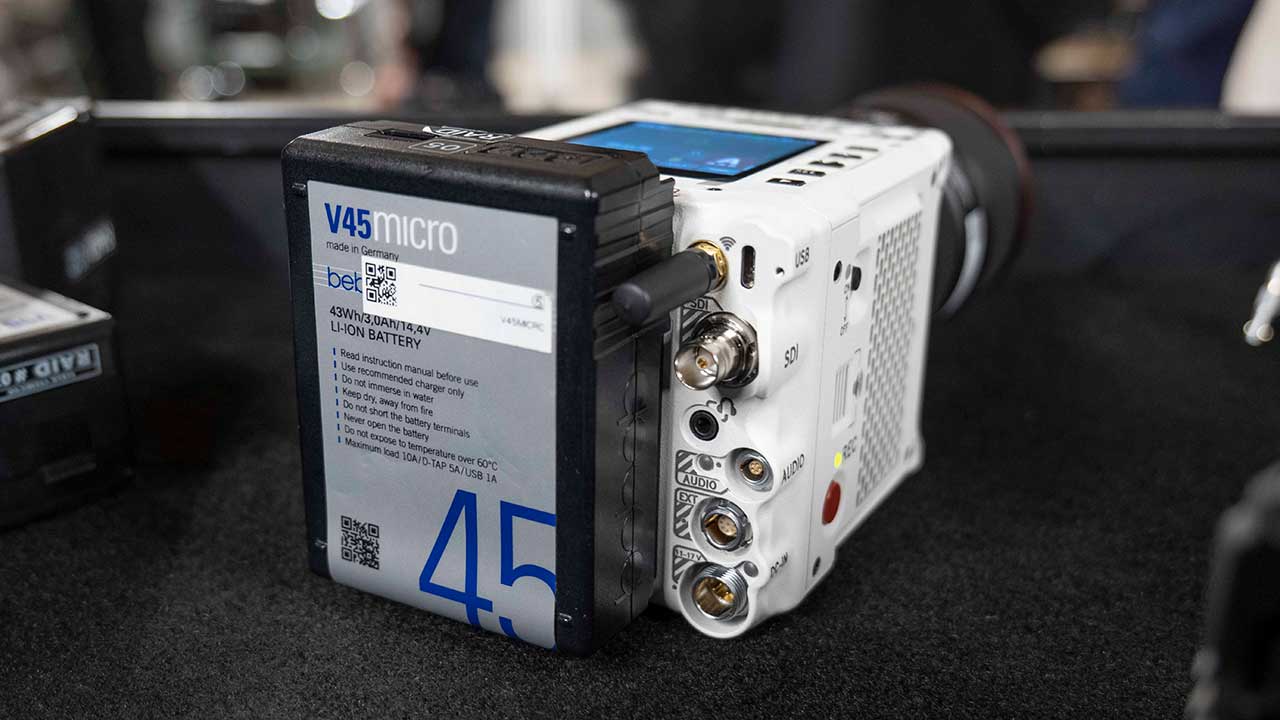 Until now, it was not possible to put an external monitor on the top of the original KOMODO, but KOMODO-X can be equipped with a DSMC3 7-inch touch LCD. The same monitor as V-RAPTOR can be used as it is, improving usability.
The height and width of the body are exactly the same as the original KOMODO and KOMODO-X. It is 100% compatible with the top handle and side handle that have been released for the first generation KOMODO. However, the depth is about 24mm larger due to the micro V-lock compatibility.
A touch screen display improves operability. The original KOMODO touchscreen felt heavy at times, but the KOMODO-X works smoothly. Maybe the processor specs have improved.
The first generation KOMODO sometimes felt uneasy about rattling when using a mount adapter made by a third party, but the KOMODO-X RF mount has been improved with a locking mechanism. It became more stable when using Canon's mount adapter "EF-EOS R".
The memory card for this camera was changed from CFast to CFexpress Type B.
RED's cinema camera lineup includes the KOMODO series with a global shutter and the V-RAPTOR series with a rolling shutter. The KOMODO-X is a model that has taken over the global shutter from the KOMODO series and enhanced its high-speed capabilities. It is the emergence of a cinema camera that we can't wait to release.