An Interview with Takanori Higashida
Hibino Co., Ltd. started operating Hibino VFX Studio in July 2021, two years after it opened as Japan's first permanent LED in-camera VFX studio. For the past two years, we have recognized them as being at the forefront with the new technology of LED in-camera VFX. For our Virtual Production Field Guide series, we interviewed Mr. Takanori Higashida, the studio producer.
Originally written and conducted in Japanese
Virtual Production Field Guide Vol. 4 Contents
Introducing a main system that is always on the cutting edge
Metaverse Productions provides in-camera VFX filming systems at two permanent studios
Shooting a TV drama with virtual production
Virtual production is deployed as one pillar
Introducing a main system that is always on the cutting edge
――Hibino VFX Studio will be covered by us for the first time in two years, since it opened on July 1, 2021. Have there been any changes in virtual production services and facilities in the last two years?
Mr. Higashida:
Over the past two years, many things have evolved, including people, equipment, and the virtual production system itself. We have worked hard to keep up with the wave of evolution, but it has been extremely difficult.
However, in Japan, we are the first in the industry to start providing virtual production studio services, so I feel that we are leading the way.
――It's been two years since the service opened, but it doesn't feel old at all, probably because it started with a system that incorporated cutting-edge elements such as disguise and ROE Visual's LED display from the start of the service.
Mr. Higashida:
As for the LED display, we installed a 1.56mm pitch high-definition LED display made by ROE Visual when the studio opened, but I think it is still at the cutting edge. Disguise's media server also started with "vx4", but it has been updated to the latest model "vx4+" announced in 2022 and maintains the latest specs.
――The industry standard for LEDs used in virtual production in Hollywood is 2.3mm to 2.8mm pitch.
Mr. Higashida:
Hibino VFX Studio is not a very large studio, so I wanted to make it a compact, high-definition LED display studio.
――Why did you decide to use disguise two years ago when you were still fumbling about virtual production?
Mr. Higashida:
Our company has been developing large-scale video services for various events, mainly large-scale concerts, and disguise was originally introduced early as a control system to realize video production for live performances and shows. We have been friends for a long time, and we are constantly exchanging information. In the midst of this trend, I got information early on that disguise was equipped with functions for virtual production.
Disguise is not the only way to collaborate with manufacturers. We are constantly working with ROE Visual and Brompton. I think that being able to do that is a big advantage for us.
――The technology of virtual production is a collection of various technologies such as LEDs, media servers, and trackers.
Mr. Higashida:
All of them are important, so I'm conscious of being able to update them comprehensively. Most recently, we replaced various equipment in early June.
■ LED display for ambient light (ceiling, side)
ROE Visual "Carbon5" to "Carbon3 MarkII"
■ Media server
Disguise "vx4" to "vx4+"
■ Camera tracking system
stYpe "RedSpy" to "RedSpy3.0"
Updated LED, media server and camera tracking system in early June――Infrared markers are not the only type of tracking used in virtual production worldwide. Optical systems such as OptiTrack and VICON will split the market share. What do you think about that?
Mr. Higashida:
We are also conducting verification work for markerless devices such as OptiTrack in parallel. When filming TV dramas, there are sets with limited space where the camera is covered by the ceiling. In this case, markerless may be necessary, so I think it would be ideal to be able to realize a wide range of options in the future.
However, there is a tendency for the tracking accuracy to drop somewhat when going markerless. Since xR creates a single world by perfectly matching the boundary between the LED and the virtual, it is an image production that cannot be realized unless the tracking accuracy is high. In that sense, we use RedSpy more.
Metaverse Productions provides in-camera VFX filming systems at two permanent studios
――Are there any new developments other than equipment in relation to virtual production?
Mr. Higashida:
Tohokushinsha, Dentsu Creative X, Dentsu Creative Cube, Omnibus Japan, and Hibino have launched a joint project called Metaverse Production, which aims to reduce greenhouse gas emissions and improve process efficiency in video production.
Mr. Higashida continued:
Our company is a leader in concert and event video in Japan, but we have never been involved in the filming industry. It was a great advantage for us to be able to work with Dentsu Creative X and Tohokushinsha, who have a proven track record in the actual production of video works such as TV commercials.
Virtual production is also a system that can reduce environmental impact. Dentsu Creative X and Tohokushinsha also wanted to work on activities that would contribute to reducing the burden on the environment, and things progressed quickly, and five companies, including Dentsu Creative Cube and Omnibus Japan, proceeded with the project. I decided to do it.
――Among them, what kind of specific services does Hibino provide?
Mr. Higashida:
We mainly provide services for the technical part of the studio. At Metaverse Productions, we collectively call our permanent LED studios "studio PX", and we are currently opening two locations: "studio PX SEIJO" and "studio PX HIBINO." To be specific, "studio PX HIBINO" is Hibino VFX Studio, but Metaverse Production operates a double brand under the name "studio PX HIBINO."
――As for studio PX SEIJO, it is open for a limited time, but I have heard news that it will be extended several times.
Mr. Higashida:
Initially, it was scheduled to open for a limited period of three months from September 1, 2022 to November 30, 2022. Thanks to a lot of publicity, we received many inquiries about shooting projects, and after extending it until the end of March 2023, it has now been decided to extend it until December 31, 2023.
――The provision of Metaverse Production and 3D CG data is also a feature.
Mr. Higashida:
Correct. You can select and use locations from various 3D CG settings, for example, condominiums, offices, classrooms, and cityscapes overseas. Our technical staff is also involved, and archives have been verified with Hibino VFX Studio's in-camera VFX system.
――What I think about using in-camera VFX is that even if you say, "You can do anything," you can't imagine it without imagination. Therefore, I think it would be easier for everyone to envision an image by using CG data as an example.
Mr. Higashida:
In that sense, the documentary movie "Vocument #1 'Now, the place where the movie director Joe Odagiri stands.'" This was produced by Tohokushinsha has many assets created for the production of this work, and set in various locations. Since it covers all of them, I think that it will be easier to draw an image of shooting by looking at this work.
Mr. Higashida continues:
You can try it in various ways, such as in-camera VFX and screen processing. Using these studios, you can create a very unique form of documentary-like painting a movie.
Shooting a TV drama with virtual production
――Please let us know if there are any TV projects that Hibino was involved in that can be made public. When we hear various announcements, it seems that the shooting of dramas is increasing.
Mr. Higashida:
That's exactly right, and the other day, we cooperated in the production of the short drama "Hitohira no Hatsukoi" distributed by Omnibus Japan with our company, which participates in Metaverse Production. This is the first full-length virtual production in Japan using Unreal Engine 5.1.
Mr. Higashida continues:
In addition, Hibino supports the filming of multiple TV drama series, including large-scale TV drama series.
――Please tell us about the scale of the virtual production filming for the large-scale TV series.
Mr. Higashida:
These types of productions are a long-term, large-scale type of shoot that will last for more than a year. Some began from the spring of 2022, and some are still in operation. We continue to shoot while moving between 4 studios, and at one point we even had two virtual production shoots going on at the same time.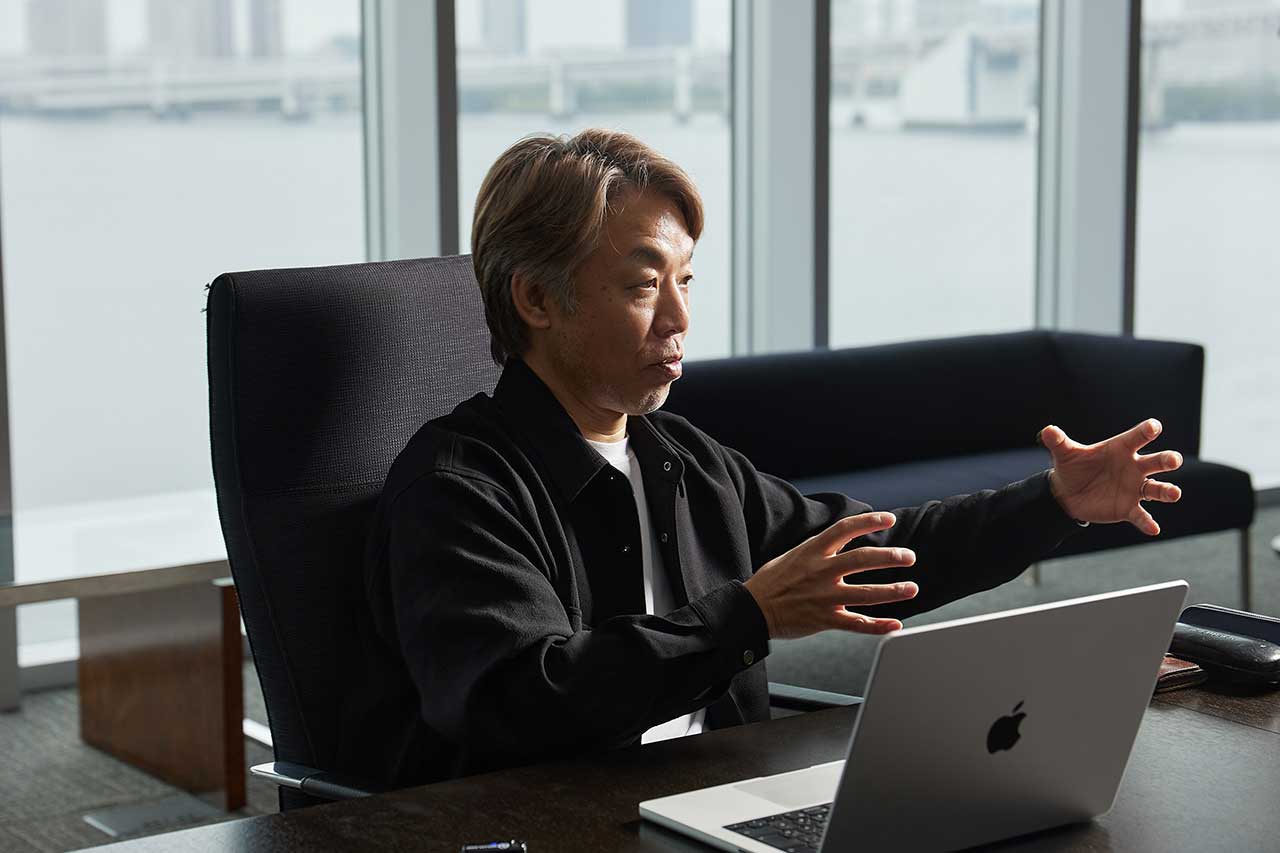 ――Talk about Hibino's ability to dispatch LED sets in multiple places at a time.
Mr. Higashida:
In addition to providing services at our own studio, Hibino VFX Studio actively plans, rents, installs, and operates virtual production systems for external studios.
Recently, our company's virtual production has been in operation at multiple TV stations, and when filming dramas and movies, we design and build the optimal LED size and system for each project before shooting. I believe that this production method leads to the creation of the highest quality work.
――Recently, it seems that more and more TV production companies are using virtual production facilities to film dramas.
Mr. Higashida:
It is true that virtual production is increasingly being used in TV dramas. It seems that there is a movement to promote virtual production at each station.
Virtual production is deployed as one pillar
――Finally, there was a time when events were reduced due to the pandemic. Events and productions are gradually reviving, so what do you think the position of virtual production will be for Hibino Studios in the future?
Mr. Higashida:
It's going to be a detailed story, but from this spring, the Hibino Visual Division, which I belong to, will be reorganized into four pillars: "Event/Convention," "Live Entertainment," "Sports Event," and "XR and Pro-imaging." I decided to promote my business. Virtual production will become an independent core business within "XR and Pro-imaging," and we plan to focus on it as a company.
Recently, we renovated the studio entrance, and installed a virtual production monument at the entrance. We will also actively disseminate information for the spread of virtual production.
――Did you imagine the current situation when you opened two years ago?
Mr. Higashida:
At the start stage two years ago, we started within the organization of the concert and event business, so to be honest, there were some concerns about human resource development and system construction, but thanks to many customers and partner companies, we are finally here. I got the shape. In addition to leading the industry, we will continue to provide the highest quality services that satisfy the creators.
Hibino VFX Studio will start its third year in July 2023. We are looking forward to the next stage of Hibino VFX Studio, which has accumulated various achievements over the past two years.