The 2023 edition of South by Southwest and the Feature Films Category 
Contents
A shortcut to the Academy Awards? SXSW2023 "Film & TV" category
Highlights of SXSW2023 "Film & TV" category
Dungeons & Dragons: Honor Among Thieves
Evil Dead Rise
Swarm
Yellowjackets
Joy Ride
10 days when the city is overflowing with movie people
A shortcut to the Academy Awards? SXSW2023 "Film & TV" category
SXSW, held in March at the same time as the Academy Awards, featured movie premieres, so the event is was attracting attention as a place for the film and television industry to quickly predict the Oscar candidates for the following year.
On the 12th, "Everything Everywhre All At One," which premiered at last year's SXSW2022, achieved the highest number of awards such as the Academy Award for Best Picture and Best Actress, and was also showing excitement in Austin, where SXSW is being held.
This year too, the SXSW Film Division has a lineup of numerous original works in each genre, including feature films, short films, documentaries, and TV series. More than 200 films are shown in theaters. It's impossible to introduce all of them, but in this article, we will pick up and introduce the most notable works from the large-scale works called Headliner. Maybe one of them will be a candidate for next year's Academy Awards?
As a recent trend, the number of screenings of TV drama series has been increasing in addition to movies, and SXSW has changed its name from Film Festival to Film & TV Festival from this year. In addition, this year, the push for horror movies is stronger than usual, and it seems that more exciting content is preferred as a recent trend in the American film industry.
Highlights of SXSW2023 "Film & TV" category
The Opening Night Film, is a film adaptation of the world-famous board game series "Dungeons & Dragons" as a fantasy RPG. The cast including Chris Pine and Michelle Rodriguez, who starred in the film, also appeared on the red carpet set up in front of the Paramount Theater. This work is scheduled to be released on 3/31 in countries around the world, including Japan.
---
SXSW can be said to be a treasure trove of horror films. As for this year's notable movie, the latest work of the "Evil Dead" series will be premiered. Sam Raimi, the director of the original version, is involved in this work as a producer, and will also appear in a panel session by the production team. It can be said that it is a must-see content for former horror movie fans. SXSW has a category called MIDNIGHTERS, and there are many other horror movies in the lineup, so if you like horror, check out the lineup here .
---
"Swarm" is a new Amazon Prime Video drama directed by Donald Glover and Janine Nabers, who also appeared at SXSW last year. The first episode was screened on the evening of the first day of SXSW 2023, prior to the start of distribution in the United States. It has become a hot topic as a suspense/horror work featuring an R&B star reminiscent of Beyonce.
Advertisements of this work are posted all over the city of Austin, and attention is paid to the activation that reproduces the world view of this work at the South Congress motel, which is a little away from the center.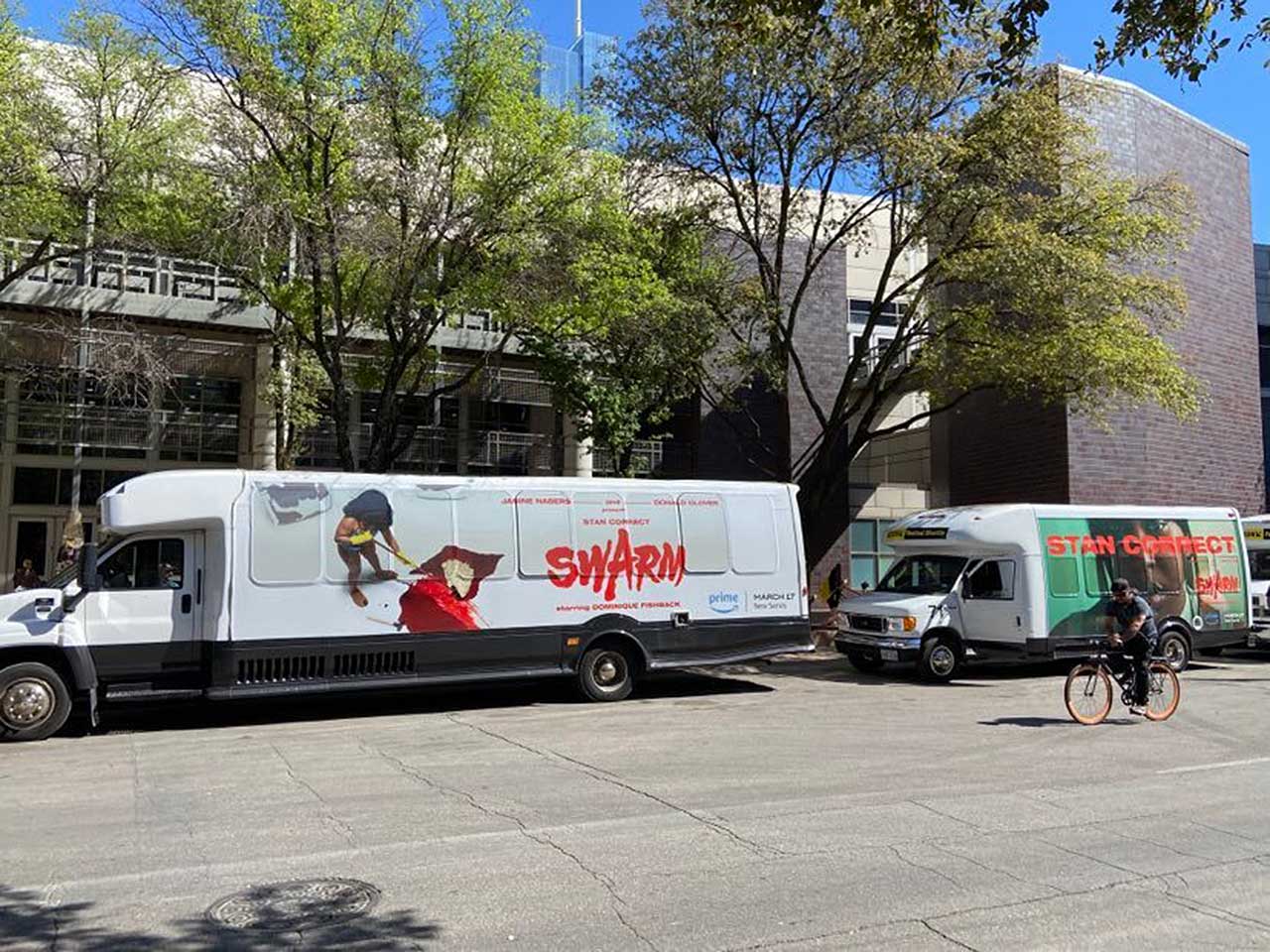 ---
Season 2 of Showtime's drama series "Yellowjackets," about the survival of a group of distressed high school girls, is also making headlines at SXSW 2023. Although there was no video screening itself (it seems to be such a strategy), the event venue was reserved and appealed with a presentation that reproduced the world view of the work. It seems that this year's feature is that the production companies are all promoting horror works on a large scale.
---
A hot comedy with Adele Lim of Crazy Rich Asians as co-writer and Seth Rogen as producer. Following "Everything Everywhere All At Once", which won Best Picture at the Academy Awards held at the same time, it is also worth noting that actor Stephanie Hsu appears in this work as well.
10 days when the city is overflowing with movie people
Of course, in addition to topical works, documentaries, short films, and many other works are screened at SXSW during the period. If you like movies and dramas, check out the lineup of films to be screened at SXSW2023 here .
Another major feature of SXSW is that it not only screens movies, but also holds sessions with the cast and production team. Film industry professionals gather from all over the world to discuss new film production methods and storytelling ideas, thereby opening up the future of film production.
This year, two tracks (categories) of " Creating Film&TV " and " Film&TV Industry " are set, so please pay attention to what topics are being discussed in each.