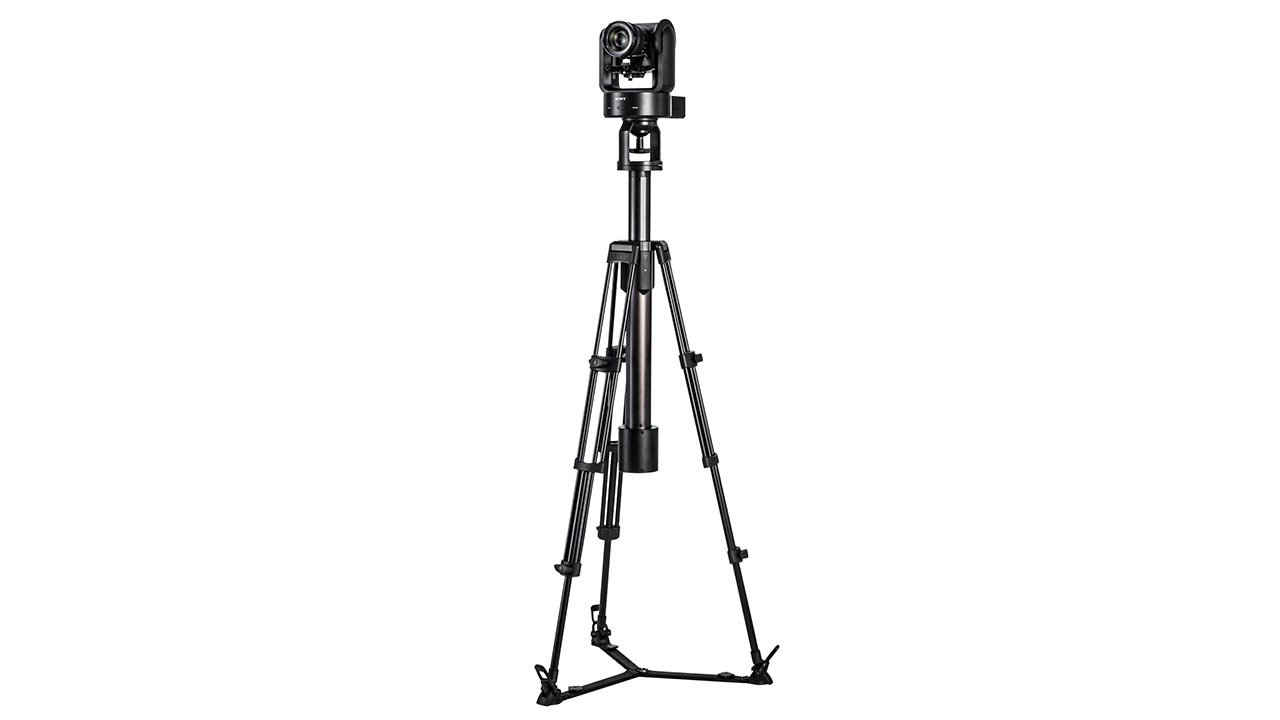 Heiwa Seiki Kogyo will release the new LX-ePed and LX-ePed Studio electric pedestal systems in April 2023. The lineup and suggested retail prices are as follows.
LX-ePed

(ground spread type): 489,500 yen including tax

LX-ePed Studio

 (Dolly type): 506,000 yen including tax

VM-12V

 (power supply adapter for V-mount battery): 49,500 yen including tax
This product is an electric pedestal for PTZ cameras that can be remotely controlled with a wired remote controller. With a maximum load capacity of 10 kg, it can accommodate most PTZ cameras. You can choose from two models, a simpler ground spreader type and a dolly type that is convenient to move.
The features of LX-ePed and LX-ePed Studio are as follows.
Remote control electric lift
The LX-ePed can remotely adjust the height of the PTZ camera. By adding a lifting function to pan, tilt, and zoom, the variation of the angle of view increases, making it easier to set up in the studio.
Stepless speed regulation
The lifting speed can be adjusted by adjusting the tilt angle of the lever on the remote control, making it easy to finely adjust the position.
You can focus on shooting without worrying about radio wave interference because you can complete it with a cable without using Wi-Fi or Bluetooth. In addition, the remote control is powered by PoE, so you can connect it to a separate power supply or save charging work.
V-mount battery drive (optional)
By using the optional "VM-12V" power supply, it is possible to supply power to the entire product from the V-mount battery. However, it can be used at shooting sites without power supply.
Compatible with flat base equipment with 1/4″ and 3/8″ screws
The included "BL-F" flat base adapter has 1/4″ and 3/8″ screws, and is compatible with various equipment other than PTZ cameras.
Video head can be attached
A 100mm ball video head can be attached by removing the "BL-F", and a 75mm ball video head can also be attached using the separately sold adapter ring "AD-75."
The pedestal and dolly/spreader can be disassembled, and each can be folded. The main unit weighs 10.3 kg and is compact and lightweight, and can be stored in the separately sold case "RC-80" for transportation.
LX-ePed has a maximum height of 247cm and LX-ePed Studio has a maximum height of 261cm, enabling dynamic high-angle shooting.
Accessory port for added convenience
The base of the tripod has two accessory ports with one 1/4″ screw hole and one 3/8″ screw hole.
Safety specifications that do not pinch hands
In consideration of safety, the electric column is designed so that hands are not caught when it is lowered.
Equipped with a visible bubble level
A water bubble level is embedded in the base of the head mounting base, allowing the user to check level mounting in use.