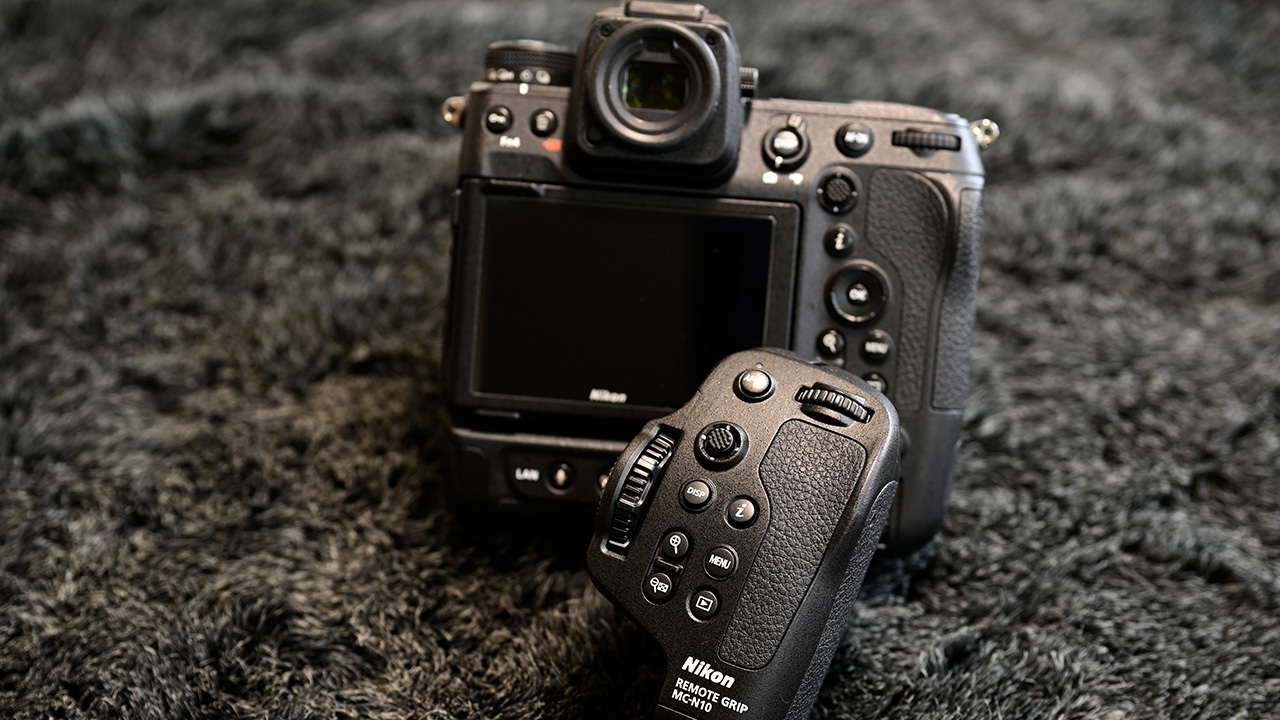 table of contents
Basic outline of MC-N10
Demonstrates its true potential in high-angle and low-angle photography
I would like to improve the position of the USB terminal and the ON / OFF switch of the power supply
Suggested retail price: 69,630 yen including tax
Release date: December 2, 2022
Basic outline of MC-N10
The Nikon Remote Grip "MC-N10" is a remote control that is used by wired connection with the Z series cameras "Z 9", "Z 7II", and "Z 6II" (as of November 2, 2022) with a USB-C cable. It's a functional grip.
The MC-N10 features handheld shooting, tripod shooting, high angle, low angle, and comfortable camera control even in situations where you can't touch the camera.
I think it depends on the size of the user's hand, but it fits my hand very well, and I got an exquisite grip that allows me to hold it firmly. It weighs about 260g including the two AA batteries that are the power supply, which may be a burden when shooting handheld or gimbal for a long time, but you can put one in your bag. Just put it on and the shooting environment will be comfortable.
The MC-N10 has similar buttons with the same functions as the camera itself, making it intuitive to operate.
It is designed so that a series of operations can be performed smoothly, such as changing exposure while panning, changing shutter speed, and changing aperture value. The other side is equipped with an ARRI standard rosette that can be attached to a pan bar or rig.
To be honest, I thought that connecting the MC-N10 with a cable every time I shot would be troublesome, and if all I wanted to do was change the camera settings, the free smartphone app SnapBridge would be enough. If you hold the camera at normal eye level and do not perform any operations such as panning, it is possible.
However, it takes time to launch the smartphone app and connect to the camera, and in some cases, connection errors may occur.
Especially when shooting indoors with a large number of photographers, assuming the possibility of unstable connection, I think that the MC-N10, which can be reliably connected with a wired connection, is worthy of resolving such concerns.
Connect the cable, turn on the power of MC-N10, press the OK button on the main unit and you are ready to goIn fact, I mainly shoot landscape videos, and I often shoot with the camera fixed to a tripod. I felt that the N10 was a very useful item.
This MC-N10 can be operated with 2 AA batteries. The specification is for 12 hours of continuous use, but I didn't use it up during the two weeks I rented it. If you are going to shoot for a long time or in extremely cold weather, it is a good idea to prepare another set of AA batteries just in case.
Demonstrates its true potential in high-angle and low-angle photography
This grip really shines when mounted on a tripod set up at a high angle, when shooting at a low angle, and when shooting handheld (including gimbals).
First of all, when shooting concerts and events, when shooting over people in the foreground, or when shooting while avoiding fences and obstacles during field shooting, high-angle shooting is often used. Since the buttons on the camera body are physically out of reach, the photographer usually has to climb a stepladder to take the picture.
However, by attaching the MC-N10 to a tripod's pan bar, you will be able to shoot and change camera settings without using a stepladder in most cases.
A separate clamp or ARRI standard rosette adapter is required for attachment to a pan stick, etc. There are inexpensive ones, so it won't be too much of a burden, but if possible, I'd like you to include them in the package. , "50mm NATO rail BUN2468" was also included in the package).
The included USB-C cable (UC-E25) is about 60cm, which I thought was "a bit short", but this is set to be long enough, and I can use the pan stick of my tripod. Arrived even when fully extended.
However, in exchange for the robustness of the cable and terminal, it is a little difficult to handle, so if you want a longer and more flexible connection, you should purchase a USB-C cable separately.
Next, regarding the low angle, you have to prepare a camera cage separately, attach the rosette adapter to the camera side, and then attach the ARRI standard rosette of MC-N10, but it is easy to operate at a comfortable low angle. It will be possible.
Since the MC-N10 can be physically angled, the grip can be held in a natural way, making it much easier to operate each button and handle the camera. Even for hand-held shooting, the camera can be supported more firmly than the main body grip, and various buttons can be operated for comfortable shooting settings.
As a basic function of MC-N10, all the button assignments, including the button functions set by the photographer, are set in the same way as the settings on the body side, so there is no need to make settings on the grip side one by one. What I have on the grip buttons is basically the default button functionality.
The F1 and F2 buttons are placed where the fingers rest on the grip, but in my case, I use the Z 9's newly added high-resolution zoom for handheld shooting during documentary and promotional shooting. assigning.
There are restrictions on image size and file format when using high-resolution zoom, but even when a prime lens is attached, you can change the angle of view without changing lenses when you want to get closer to people. is very convenient. I think that the functions of F1 and F2 should be assigned to functions that are easiest for the photographer to use.
Another nice feature of the MC-N10 is that there is no dial click sound. If you want to change the setting during shooting, the dial on the camera body may make a click sound. These considerations are modest, but they are a big advantage.
I would like to improve the position of the USB terminal and the ON / OFF switch of the power supply
The MC-N10 has the same high dust and water resistance as the Z 9, and you can feel it down to minus 10 degrees, which is a reliable performance for field shooting. Even though it claims to be dustproof and splashproof, the terminals face upward, so dust and water can get in.
If the environment is bad, I recommend that you use it with some caution, such as wrapping tape around the cable, and I hope Nikon will improve the position of the product in the future.
The next point to note is that the MC-N10 also has a power ON/OFF switch. It's not something you do. It's in the same place as the power switch on the main unit, and it's the same shape.
It is also a point to note that you have to prepare various attachments. Of course, you can connect the MC-N10 to the camera and use it alone, but in order to use it more comfortably, you will need a camera cage, clamp, rosette, etc. to fix the MC-N10 together with the camera. increase. Although it is introduced as a "recommended third-party accessory" on Nikon's product page, I would like to see a set of basic items if possible.
The only downside of the MC-N10 is the price. There is no doubt that it will be a more comfortable shooting environment, but the remote controller costs about 70,000 yen including tax. I definitely think it's a "buy", but I'm also looking forward to the price aspect.
A video artist pursuing Ikko Yamazaki . While focusing on 8K landscape video work, he also works on documentary works and promotional videos of people, things, and things.
WRITER PROFILE
We will mainly deliver new product reviews and event reports by the PRONEWS editorial department.