table of contents
Will the "Oi ND" style become a trend?
SWIFT, as the name suggests, is a 'quick' exchange system
Importance of "does not change color" as seen by comparison with other companies
In my previous articles , Vol . I received a lot of feedback from those who read the article, such as "I bought it" or "I'm using it". Of course, I have been using it for a long time, and I was relieved that my journey of searching for an ND filter was over, as the title suggests, but there was still a continuation of my journey of searching for the optimal variable ND filter.
At the end of 2022, if you look around, you will find a new type of filter that can be used as a new form of ND filter, "Oi ND".
Will the "Oi ND" style become a trend?
What is "Oi ND"? It is put on top of the conventional variable ND that is screwed into the screw on the front lens of the lens, such as NiSi's TRUE COLOR ND VARIO, which I introduced before, and you can add an ND filter or add black mist etc. It can be used with effect filters.
Of course, in the past it was possible to stack filters with a screw-in type, but screw-type stacking has a large overlapping area, creating a large distance between the lens and the filter. For this reason, vignetting occurs, and as a result of the filter being screwed in strongly, it is difficult to remove, so it was not recommended. However, with a specially made "push" style, there is little vignetting, and overlapping filters are effective.
It's a bit off topic, but NiSi's TRUE COLOR has almost no color change, and while the number of people using it is increasing, there are many scenes where the density change range of "1-5 stops" is not satisfactory. Isn't it honest? This writer also had a lot of troubles when he couldn't drop it.
In particular, with the Sony FX3, which has recently been equipped with the Cine EI mode, shooting in S-log3 is practically fixed at ISO800 or ISO12800. Under such circumstances, it is often difficult to reduce light with 1-5 stops when controlling the desired exposure when shooting outdoors (this is why the convenience of the FX6's built-in variable ND stands out).
However, many NDs have a wide range of density change, and the color change is severe, so it is human nature to want to increase the density while keeping the color change as small as possible.
Just as I was thinking about that, the "SWIFT" system emerged from NiSi like a comet. In order to solve the "insufficient density problem" of NiSi TRUE COLOR ND VARIO users, including myself, a "push" type filter work solution was announced.
SWIFT, as the name suggests, is a 'quick' exchange system
Simply put, it is a system that "pushes" additional filters on the premise that TRUE COLOR ND VARIO is installed. Since there is no need to screw it in, it is quick to put on and take off. As the name of SWIFT suggests, it is "quick".
Assuming that NiSi's TRUE COLOR ND VARIO is installed, cover the SWIFT filterIn addition, it seems that it is easy to come off if it is a push-in type, but this is also strangely difficult to come off. It seems that the filter frame itself is designed to keep it airtight, so even if you run around and shoot realistically, it won't come off (or rather, it didn't come off). In other words, it is overwhelmingly convenient when you want to do filter work quickly in RUN & GUN style scenes such as documentaries.
"FSND4 (ND16)" and "Black Mist 1/4" can be easily attached to the TRUE COLOR ND VARIO by simply snapping them on to create a "Follow-up ND". When SND4 is attached to TRUE COLOR ND VARIO, 4 stops of density are added, and by rotating it, it changes from "1-5 stop" to "5-9 stop" variable ND.
Similarly, if you add 1/4 of black mist to TRUE COLOR ND VARIO, you can get the effect of black mist while maintaining the variable concentration of "1-5 stop" or "5-9 stop". The use of multiple NDs and effect filters like a simple matte box like TILTA MIRAGE can be easily used even with a mirrorless single-lens shooting system.
The "+4 stop" SWIFT ND solves the above-mentioned "brightness that can't be dropped" problem. If the environment and camera settings are not particularly good, there is no problem if you can control 9 steps of ND.
In order to test the usefulness of SWIFT, I took the correct exposure of S-Log3 at ISO 800 in Cine EI mode with the Sony FX3 outdoors in a no-light environment.
Try layering SWIFT Black Mist 1/4 on it. A black mist effect can be obtained while maintaining the concentration of ND.
Importance of "does not change color" as seen by comparison with other companies
There are ND filters with similar systems from other companies, so I compared them. FREEWELL's VERSATILE MAGNETIC VND is a type of "following ND" that sticks with a magnet unlike SWIFT.
The difference from NiSi's SWIFT is that the filter base that is attached to the lens side has a 1-stop base ND and is then layered. A rotatable Variable ND (C-PL) can be installed on top of that, and an additional ND for 4 stops can be installed if necessary. You can also add a mist effect by setting the base ND to Mist. If you want to add Mist in the middle, you'll have to remove the ND and change the bass, so SWIFT wins in this quickness.
FREEWELL's "following filter" is a magnet type, so it's easy to feel the fit. I have fond memories of SWIFT, which does not use magnets, because I have faint memories of things like sticking to it.
More important than that is "no color change". I compared NiSi and FREEWELL under the same conditions. I am impressed by the lack of color change of NiSi. You can see that FREEWELL has a color shift toward yellow and green. You can tell by looking at the skin color of the model and the color of the ground.
The feeling of use is not bad, and I feel that each manufacturer has been devised, but the problem is probably the color change.
Knowing the lack of color change in NiSi's True Color Vario, I can't go back to filters that turn even slightly yellow.
The "Following ND" provided by the SWIFT system also maintains "True Color" with almost no color change. That's because SWIFT's additional ND is full-spectrum ND, which is the highest grade in the professional area (absorbs light evenly across all wavelengths from ultraviolet to infrared, without color cast or uneven dimming), which is why NiSi's True Color Vario It guarantees the absence of color change. It is a nice point that the color does not change even if it is layered.
By the way, this SWIFT system filter can be used without the base True Color VARIO by using an adapter. It can also be used independently as a 4-stop ND/1/4 BlackMist filter for peace of mind. I'm happy to see details like this.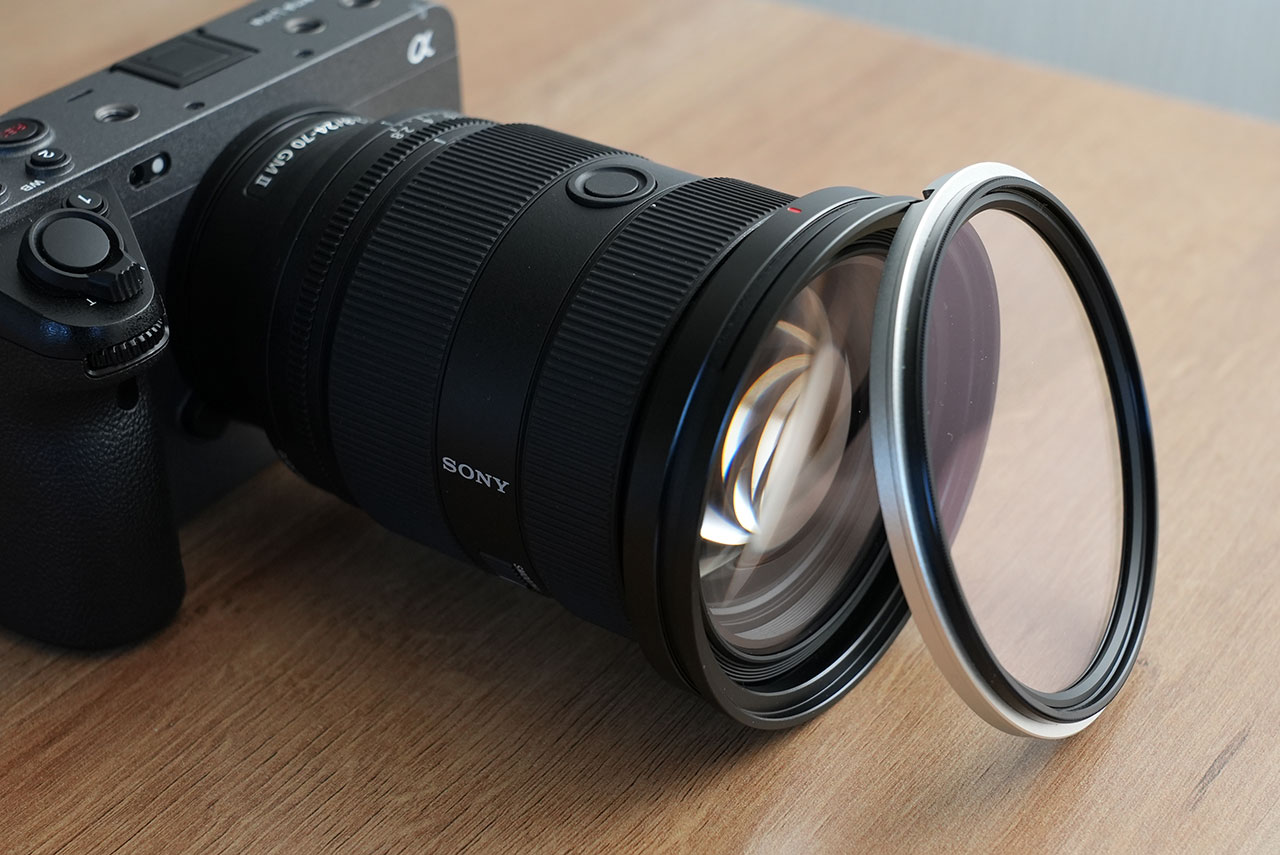 I felt that the "Oi ND" style, which expands the possibilities of filter work, will become the mainstream in the future for styles that do not use a matte box. I would like to think that I have finally reached the end of my ND filter search journey, but I am also looking forward to the enhancement and evolution of the follow-up filter. If there is a store display, I would like you to touch it.
WRITER PROFILE
A video artist who is good at talking and graduated from Nihon University College of Art Film Department "Acting" course. His specialty is "drawing people". Her main job is advertising. He is also active as a seminar lecturer and video consultant.