Course B: Cloud Technology Course-Focus on shortening installation time, remote work, and collaborative work
2022.10.27
This course explores cloud technology, which is permeating the video industry. Check out solutions that reduce installation time and enable collaboration with cloud deployments.
01 Cloud-based video production "ATOMOS Cloud Studio"
MEDIAEDGE [#7509]
4K compatible VideoPro series HDMI-SDI converter, Real-time encoding "VITEC" series, Internet video transmission "Polaris Connect" x SRT transmission system, "High speed camera QDCAM 240fps x vMix 240fps compatible SC710N1 12G SDI" video production solution, High speed camera " QDCAM" and ATOMOS products.
Attention is focused on the cloud-based video production service "ATOMOS Cloud Studio" of ATOMOS products. We will introduce the streaming function to each platform and the flow of cloud-based video production using ATOMOS equipment by linking with Adobe's Frame.io.
In addition, "NINJA V/V+", "SHINOBI/7", "SHOGUN7", "SUMO19SE", the successor to "SUMO19", the professional use monitor "NEON24", and the "SHOGUN STUDIO2" that can record 8 channels simultaneously with dual monitors. We are planning to exhibit models that cannot be used.
02 Cloud production platform "Creators' Cloud"
Sony Marketing [#7416]
A notable exhibit is the corner of the cloud production platform "Creators' Cloud" announced in September 2022. Creators' Cloud is a cloud production platform that enables efficient production, sharing and distribution. It consists of the cloud camera portal "C3 Portal", the cloud relay system "M2 Live", the cloud media storage "Ci Media Cloud", the workflow solution "Media Solutions Toolkit", and the AI ​​video analysis service "A2 Production".
In the future, we will pursue improvements in service convenience, such as support for various distribution formats, single sign-on for each cloud service with common authentication, common storage, and common payment methods.

03 Video Production Solution "KAIROS Cloud Service"
Panasonic Connect [#6316]
At the Panasonic Connect Booth, under the theme of "Live IP for Free Video Production x Remote Production", we will demonstrate video production in collaboration with the technologies of co-creation partners, as well as the latest technologies that support LIVE IP such as KAIROS, camera system solutions, and lighting solutions. Showcase your solution.
The highlight is the KAIROS cloud service exhibit. It is a service that converts the IT/IP platform "KAIROS", which enables highly flexible video production, into a cloud, and by seamlessly connecting the entire workflow of "shooting, creating, and projecting", it can be easily used anytime, anywhere. "By using the KAIROS cloud platform, which seamlessly connects the entire workflow, we are freed from constraints of location and time." It is characterized by three things: "You can freely use the service you want to use at any time."
At the booth, a real connection between Osaka and Makuhari Messe will be held, and presentations using remote production and video production for sports broadcasts/esports distribution will be demonstrated. In the presentation, we proposed a video expression that utilizes KAIROS' core technology. In addition, centering on the KAIROS cloud service, we will exhibit the expansion of functions through hardware and application cooperation with technology partners, and introduce the continuously evolving scalability individually.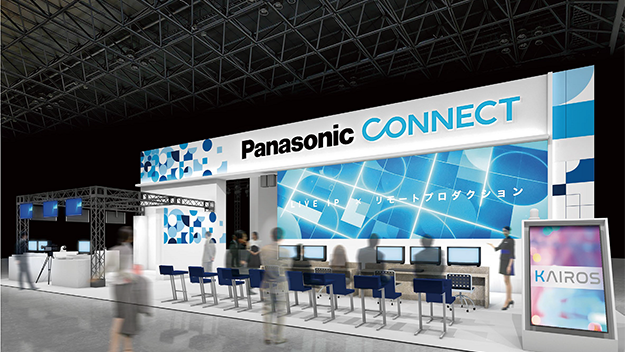 04 Exhibited media solutions utilizing the cloud with partners
Amazon Web Services Japan [#6114]
In addition to exhibiting media solutions utilizing 18 partners and the cloud, demonstrating content production, media supply chain, broadcasting, distribution, and data analysis, AWS Media Services and storage solutions will be introduced.
In the booth, "Remote video production using Davinci Resolve Studio 18", "Rush check using Camera to Cloud", "Realization of offline and grading flow in the cloud", "AWS Edge & Elemental live and on-line Demand Video Distribution Solution" and other exhibits. At the AWS seminar in the international conference hall, sessions on themes such as "Moving video production operations to the cloud with AWS" and "Latest cases of news and sports at broadcasting stations" are scheduled.
05 Cloud Storage "Wasabi"
Visual Graphics/Wasabi Technologies Japan [#6204]
Booth photo is an imageThis year's visual graphics will be jointly exhibited with Wasabi. The main exhibit is the cloud object storage "Wasabi", which features price and high performance. It is compatible with Amazon S3 provided by Amazon Web Service (AWS), has high data writing and reading speeds, and ensures high reliability and security.
Wasabi's storage features ease of use and the ability to set up an account in seconds. You can use a web console like S3 to create storage buckets, configure users and access policies quickly and easily. It also supports a wide range of S3-compatible storage clients for a variety of host platforms, allowing files to be moved in and out of the cloud with the simplicity and convenience of drag-and-drop just like they would on a local drive.