Adobe has announced the latest version of its all-in-one content creation app, Adobe Express. In addition, Adobe has also announced that for the first time Adobe Firefly's Generative Recolor feature is now available in Adobe Illustrator. Both of these updates are currently in beta, and currently only available in English, but later updates will have these generative AI functions available in full.
The latest version of Adobe Express is currently in beta. The latest version (beta) for desktop is available for free, and the mobile version will be released soon. Adobe Creative Cloud subscribers are included in the Adobe Express premium plan, which allows them to use paid content and features of Adobe Express. 
The latest version of Adobe Express has an enhanced UI that makes designing and sharing social media posts, videos, images, PDFs, flyers, logos and more faster, easier and more fun. Additionally, Adobe Firefly is integrated directly into the Adobe Express workflow, enabling creatives of all skill levels to generate image and text effects, create social posts, posters, flyers and more with simple instructions in their own words. It says.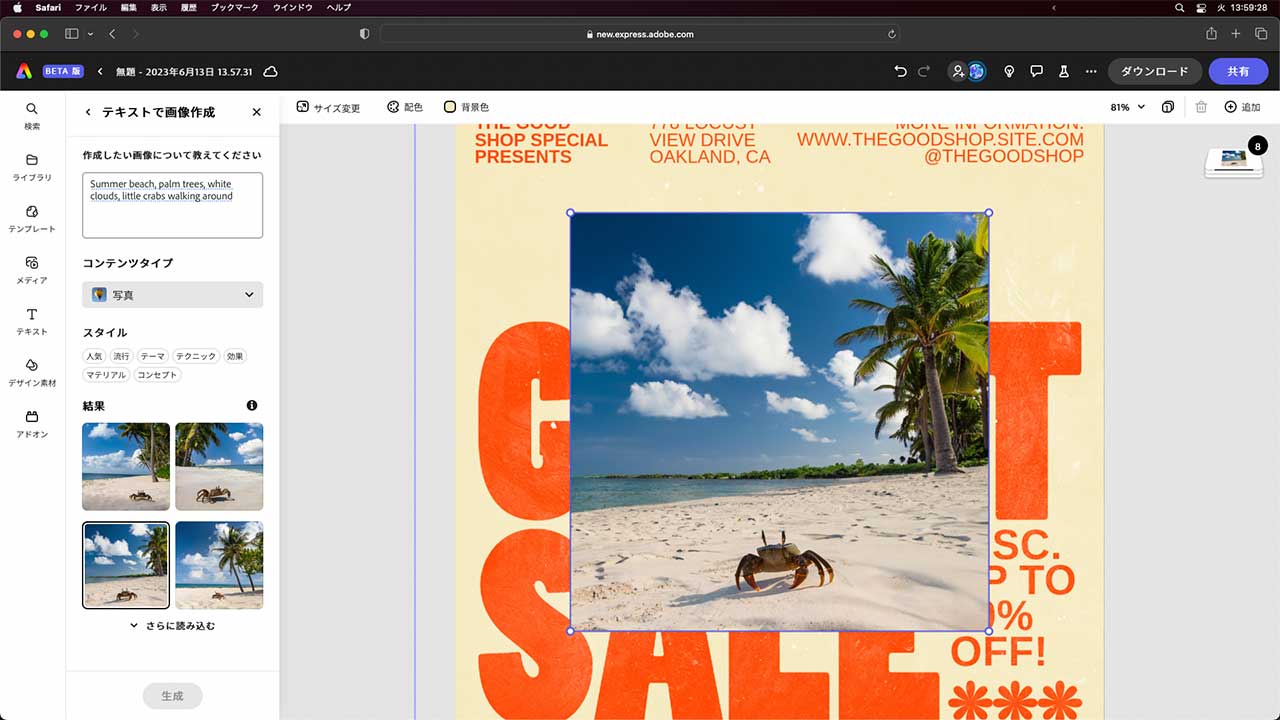 Generative AI Powered by Adobe Firefly, Adobe Express now includes Adobe Firefly's Text to Image and Text effects. The content generated by Adobe Firefly is trained on Adobe's proprietary datasets, and the content credential feature allows provenance information to be displayed, bringing critical trust and transparency to digital content.
Adobe Express Latest Update Features:
New Templates and Designs for Video and Multi-page

: The collection of content accessible through Adobe Express includes video and design templates, royalty-free images, video and audio assets from Adobe Stock, 22,000 fonts, Approximately 200 million assets are now available, including icons, backgrounds, and shapes/

Expanded PDF support

: Capture, edit, and enhance documents more easily to create visually stunning PDFs

Enhanced AI capabilities

: Creators will spend less time guessing about design direction and required elements, quickly finding the best additional elements for their content, from personalized template recommendations to match their unique style, to social media posts, Ability to create videos, posters and flyers.

Quick Actions

: Remove backgrounds from images and videos, animate characters with audio, convert GIFs, edit PDFs, and more with just one click to create compelling content faster and easier.

Shorten the production process with real-time collaboration, seamless review and commenting

: directly access and edit creative assets in Adobe Photoshop and Adobe Illustrator, add linked asset files to Adobe Express and stay in sync across apps.

Animation features such as fade-in, pop, flicker, and bungee

: Text, photos, videos, and assets can be used as new content. Animate from Audio, powered by Adobe Character Animator, lets you create characters with lips and gestures synchronized to pre-recorded dialogue
Adobe Illustrator's new updates features will allow designers to instantly explore different color variations simply by entering simple prompts, and will initially be offered as an English beta version (Japanese version will be added at a later date). ). This new feature furthers Adobe's vision to bring Adobe Firefly to life as a co-pilot for creators of all skill levels, bringing creative vision to life at the speed of imagination. and
Generative Recolor generates and applies custom color themes to vector artwork that capture the essence of a verbal image, such as 'desert at noon' or 'jungle at midnight'. Automatically apply color all at once to complex vector graphics with a simple text prompt.
This feature saves artists time by not having to manually modify each individual vector. This streamlines the creative process, from brand identity to advertising and marketing graphics, to digital drawings and illustrations, to creating inspiration and mood boards. Designers will be able to create and test multiple color variations from a single product packaging design, create different variations of ads for specific seasons or holidays, and create illustrations with countless color combinations. .
The new features of Generative Recolor are as follows.
Text Prompt Coloring

: Save time by entering simple text prompts to quickly recolor advanced graphics

Easily explore and apply colors

: Easily experiment with different colors, palettes and themes to get the right look and feel for your artwork

Ability to generate any number of color variations

: Promoting the development of artwork on SNS, printed materials, and the web by generating countless color variations from one artwork
The latest version of Adobe Illustrator also includes new features such as ReType Beta, new layers and enhanced image tracing to make artwork faster and easier than ever. 
Ashley Still, senior vice president of digital media at Adobe, said:
Adobe Illustrator is the tool behind some of the world's most successful designs, from brand logos to product packaging. Adobe Firefly accelerates the creative process of ideation, prototyping, and asset creation, saving immeasurable time and driving new design possibilities.