TASCAM will release the new DR-10L Pro field recorder/lapel mic system on August 23th, 2023. It will be available from most retailers on September 11th, 2023. The "DR-10L Pro" is a 32-bit float recording compatible pin microphone and has a suggested MSRP of $219.
This product retains the small size and simple operability of the previously-released conventional model "DR-10L" released in 2017, but is equipped with a 32-bit float recording function that enables recording without sound distortion. This added function eliminates the need for troublesome gain settings.
With a battery life of up to 24.5 hours, there is no need for frequent battery replacement even when recording for long periods of time, reducing the workload of creators at busy filming locations.
In addition, by attaching the separately sold Bluetooth adapter "AK-BT1", you can greatly improve the workflow at the shooting site, such as supporting remote operation from a smartphone and wireless time code synchronization with recording devices other than this unit such as cameras.
Easy setting with 32-bit float recording
DR-10L Pro" is equipped with a dual A/D converter to ensure a wide dynamic range. Supports 32-bit float recording that maintains resolution even when the volume is turned up or down during editing. No need for troublesome gain settings, just slide the recording switch to easily record without cracking.
In addition, it comes with a pin microphone that can clearly capture loud voices without cracking, making the most of 32-bit float recording.
Discreet, ultra-compact size
The whole package is an ultra-compact size that fits in the palm of your hand and weighs only 65g (including 2 AAA batteries). When filming movies or weddings, the microphone and recorder can be hidden behind clothing to prevent them from being reflected. The included belt clip makes it easy to attach the recorder.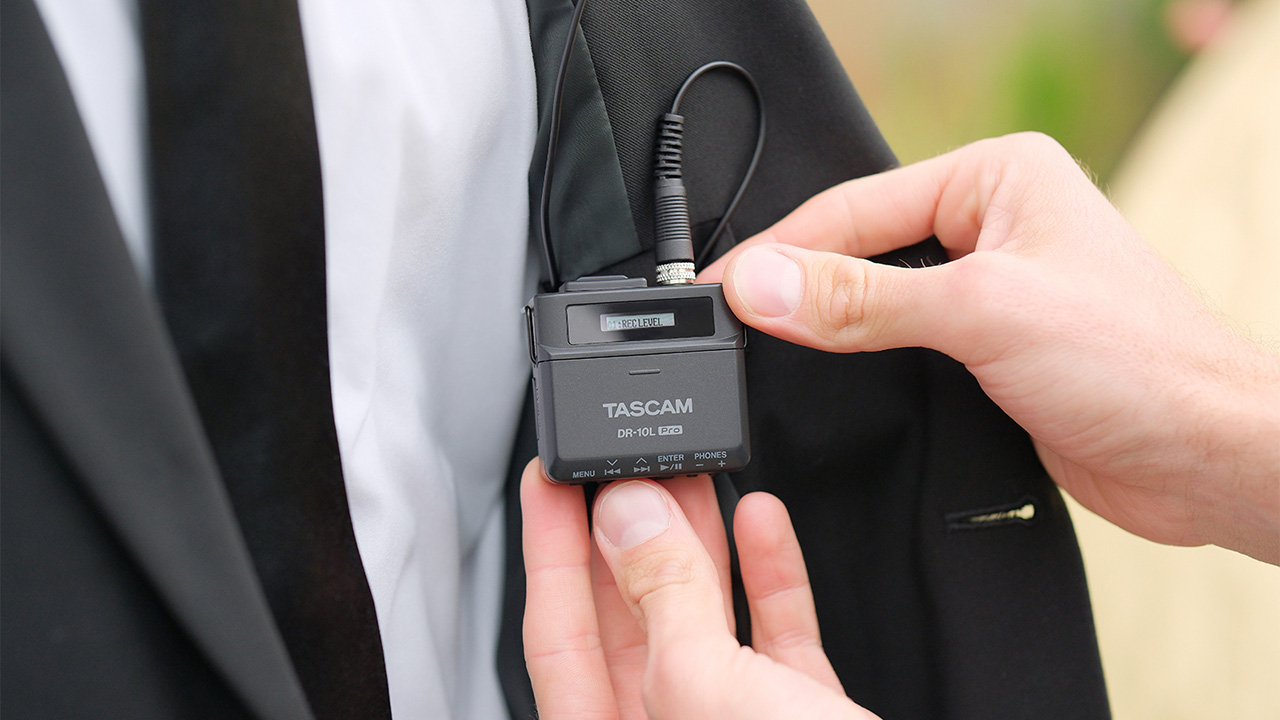 Long drive and auto file save function
The TASCAM DL10L Pro can for up to 24.5 hours with two AAA batteries (when using lithium batteries). There is no need to replace batteries frequently even when recording for long periods of time. In addition, since recorded data is automatically saved every 20 seconds, data loss can be minimized in the event of an unexpected event such as running out of battery.
New App That Controls 5 Units at Once
Now available from TASCAM is the PROCONNECT App. If you use the free app for iPhone, iPad, and Android, you can remotely control up to 5 units at the same time. The app allows transport operations, recording settings, name settings for easy-to-understand management of each individual, and real-time monitoring of waveforms. In addition to individual operations, multiple units can be recorded and stopped collectively.
Quickly check settings on the organic EL display
The main unit's organic EL display makes it possible to check the recording status, level meter, remaining battery power, etc. at a glance, even in dark environments or bright outdoors. The main unit can be set with the "DR-10L Pro CONNECT" control application, or it can be done only with the main unit.
Supports wireless timecode sync
The "DR-10L Pro" is said to not suffer from the gap between video and audio. Wireless timecode synchronization with the camera via Atomos UltraSync Blue is possible by attaching the separately sold "AK-BT1" Bluetooth adapter. As a result, when recording using multiple recorders and cameras, it is easy to synchronize the video file and the audio file of "DR 10L Pro" at the time of editing, realizing more efficient editing flow.
Bundled audio repair tool "iZotope RX Elements"
Bundled with iZotope RX Elements, an audio repair tool popular in post-production. RX Elements is equipped with a Repair assistant function that automatically identifies and repairs noise in audio files, supporting professional-quality production.
Main features of the DR-10L Pro
Lightweight, compact and wearable design
Equipped with 32-bit float recording and dual AD converter technology. From whispers to screams, high-definition recordings are possible
Supports large capacity microSDXC cards (up to 512GB)
Can be driven for up to 24.5 hours with two AAA batteries
Lavalier microphone (pin microphone) "TM-10L" is included
By installing the optional Bluetooth adapter "AK-BT1", it is possible to simultaneously control and monitor up to 5 units from the remote control application "DR-10L Pro CONNECT". Also supports wireless timecode synchronization with Atomos
Equipped with 3.5mm headphone output for monitoring
More information here