table of contents
Main body design and specifications where simplicity and simplicity coexist
Touch display and interface that allows you to operate multiple functions without a manual
Convenience is further improved by linking with a PC!
summary
Over the years, RØDE is a large standard manufacturer that has continued to release many reasonably priced, high-performance microphones. In recent years, the company's new product "RØDECaster Pro II" has many digital items such as "Wireless GO", a wireless system that is compact and highly compatible with PCs and smartphones.
Simply put, this unit is a "digital audio mixer", but as the website calls it an "all-in-one sound production studio", it has a variety of functions that go beyond a mere mixer.
This time, we will introduce the specifications and functions of the RØDECaster Pro II, as well as the features and advantages of this company, which is a relatively "newcomer" as a mixer product in this genre with many rivals, including long-established companies. Let's check if you have it.
Main body design and specifications where simplicity and simplicity coexist
The main panel has a relatively simple structure for a mixer-type product, while the controls such as six faders with long strokes and pads for material output give off a strong presence. Much of the information and settings are left to the 5.5-inch touch monitor provided at the top of the panel, and in that respect it can be said that it is a very "modern" device.
Many of the buttons and knobs on the panel are colorful and self-illuminating when the power is turned on. Each has a fairly high brightness, so each button and knob can be clearly distinguished not only in dark places but also in bright places, demonstrating high visibility. A mixer is a "behind-the-scenes" device, but this colorfulness can be said to "shine" even if it is installed in a way that can be seen on the screen of the distribution or on the stage of the event.
I arranged it side by side with a 14-inch MacBook Pro for the image of the body size. Although it is compact compared to the functions it has, the faders and buttons maintain a sense of size and density that makes it easy to operate, and I felt that the balance between the two is quite excellent.
The power supply can be supplied with USB PD from the dedicated Type-C terminal. In principle, you should use the AC adapter that comes with the product, but I'm happy to see a general-purpose standard that can flexibly support non-standard batteries and adapters.
Supports 30W USB-C PD (15V, 2A)
And it is completely independent from the power supply, and has two USB Type-C terminals for connecting to a PC (this meaning will be explained later), a microSD card slot that can be used for recording recorded data, a LAN terminal, etc. It is
The audio input is equipped with 4 combo jacks that can be used for both XLR and phone. The highly reliable NEUTRIK connector is used, and you can see that the cost is firmly spent on the place where it should be connected. In addition to microphones and LAN, all inputs are Hi-Z specifications that allow direct connection of electric instruments such as electric guitars. In many products, even if there are many inputs, there are many cases where only 1 or 2 Hi-Z specifications are available, so it is nice to have support for all terminals. In addition, you can feel that it is a "considered" product, such as preparing upside-down numbers so that it is easy to recognize when looking from the top.
For output, in addition to stereo to monitor speakers, there are four headphone jacks that can change the content and volume. In a complex form of distribution involving multiple performers and musical instrument performances, it is very important to return the monitor according to the situation to the headphones separately from the final output, so it is not just a small mixer but an "all-in-one sound production studio" The most persuasive point in the name is actually the accuracy of the specifications around here.
The volume of each headphone is designed to be "easy to understand and convenient" with a dedicated knob and "color-coded" LEDs.
The mute and solo switches at the bottom of the fader are represented only by icons. Although there is no description of words such as "MUTE" and "SOLO", there are different tastes, but there are certainly many cases where even beginners without prior knowledge can easily recognize it.
There are many devices that have a function that can "pop out" sound materials such as sound effects and jingles, but the RØDECaster Pro II uses a large pad similar to a sampler used for music production, and it is clearly color-coded. It shows a commitment that can be said to be rare as a product whose main purpose is distribution and recording.
While relying on the touch panel for many settings and operations, I personally like the fact that it has a physical switch for audio recording inside the main unit, and that it is clearly color-coded according to the operating state. As for the position, I felt a conscientious philosophy of "not making mistakes in design" as much as possible, such as keeping it away from other buttons (especially pads that I often hit with momentum), so I chose a product from multiple candidates. It seems to be one of the advantages in occasions.
Touch display and interface that allows you to operate multiple functions without a manual
When the RØDECaster Pro II is powered on, it will go through a boot process of several tens of seconds before being able to operate on the monitor. It's not a device that you turn on and off frequently, so the length of time is within the allowable range, but in the version at the time of verification, there were times when the RØDE logo was displayed still and I suspected a momentary freeze, so I felt that it would have been better if a bar or percentage display indicated that the boot process was in progress.
The 5.5-inch touch panel is high-contrast, high-definition, very easy to see, and excellent for recognizing settings and meters. Touch operations may be confusing when many people are accustomed to iOS or Android smartphones, but they can get used to it if they operate for several tens of minutes. It should be.
You can also move to the setting screen of each channel by linking with the selection with the button provided on the fader. The panel and terminals on the main unit are simple, but you can access a large number of functions and items here, and you can greatly benefit from digital control, which allows you to save them in their entirety.
Presets are also available for the settings of each channel according to the type of device to be connected. While it is very convenient, for example, if you select a preset for a condenser mic, 48V phantom power is set to flow without confirmation. rice field. Despite my desire for such details, I was able to feel that the device has a steady performance even in the "real" part, as it has a large range of gain increase and has the potential to be compatible with all kinds of microphones and instruments.
Effects such as equalizers, compressors, and reverbs can be applied to each channel and master output, and intuitive settings can be made using the touch panel. Although the "dedicated machine" had high performance, it had the disadvantage of being troublesome to set using dials and cursor movement, but here it can be handled in the same way as plug-in software on a personal computer, and if you use editing software etc. You will be able to use it without confusion on the extension line.
Not only each channel, but also parts related to the entire system can be set by touch operation. Most of these can be set to display in Japanese, and if you are familiar with audio equipment to some extent, you can guess most of the operations without reading the manual.
In addition to the external input of the main unit, the fader can also be assigned a source such as the sound of a USB-connected computer.
RØDECaster Pro II prioritizes "intuitive" display and operation, which is relatively easy to handle even for beginners, but if you narrow down the settings, you can also meet the needs of veterans who want to understand numerical values ​​properly. It's becoming
Audio playback using pads is particularly complicated in assigning materials and setting the playback format, but if you use the screen display and touch operation together, you can rely on the waveform display and it can be done fairly intuitively. Looking at only the number of functions, there are rival products with similar specifications and lower prices, but it can be said that one of the major advantages of this machine is that the intricate operations on the main unit are easy to understand.
Convenience is further improved by linking with a PC!
Although the RØDECaster Pro II can be used on its own, many functions can be used fairly intuitively, but when used in conjunction with a computer, it is possible to experience even more convenience. First, after installing and launching the management utility " RØDE Central " common to all RØDE products, by connecting the RØDECaster Pro II to the computer via USB, various settings can be made on the computer screen, which is easier to see than the main unit.
Audio files in the computer can be directly transferred from RØDE Central to assign materials to pads, greatly speeding up both operation and material management.
In addition, material recorded on the SD card on the main unit can be exported with format conversion and automatic loudness adjustment using RØDE Central, making it possible to obtain a wider range of convenience than the main unit's functions.
In addition to such management, the RØDECaster Pro II can be used as an "audio device" on a computer via USB connection without installing any special drivers. First, when connecting to the main unit's USB1, in addition to the main audio, it is recognized as two audio devices so that "audio such as instructions that do not flow in the distribution" can be played separately from conference software such as Zoom during distribution.
In addition, since the USB2 connection is recognized as a "separate audio device", it is possible to assign distribution and recording to other software within a single computer, or to divide roles by connecting to two separate computers. , You can also make settings that are impossible with a general audio interface.

When connected to a computer, the input from the main (USB1) can also be used as a multi-channel that handles sound output from each terminal and pad individually, so you can use it on the premise that you will perform a detailed mix in the end. It is also possible to perform full-scale recording by linking with the internal DAW.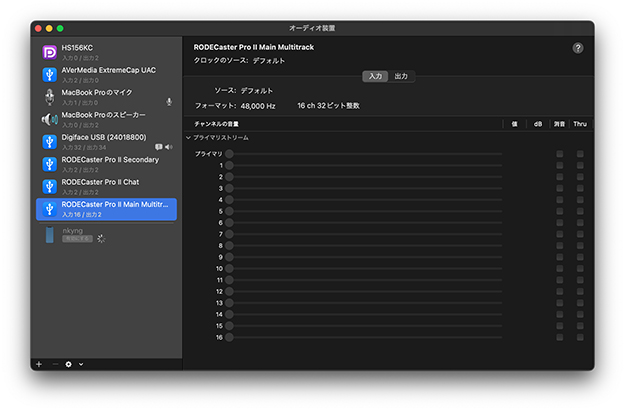 summary
Audio mixers are a "dead" field where there are many classics, and especially in applications such as distribution that emphasizes stability (especially veterans) there is a cautious side to introducing new items. In that respect, while the RØDECaster Pro II is suitable for beginners, the attention to detail and the abundance of ideas will make you want to build a system and workflow that makes use of them. It is also very attractive.
Due to its structure, improvements and additional functions can be expected through system updates, so it will be a powerful option for those who are thinking about the audio surroundings of a delivery system that is easy to turn around.
Atsushi Osuka | Profile
Videographer/Musician "Studio Nekoyanagi" Representative Adobe Community Evangelist I produce videos and music, research and write about technology, and teach at universities and e-learning. His recent publications include "Adobe Premiere Pro Super Efficient Utilization" (Genkosha) and "YouTuber's Textbook" (Impress). Twitter: @jun_oosuga
WRITER PROFILE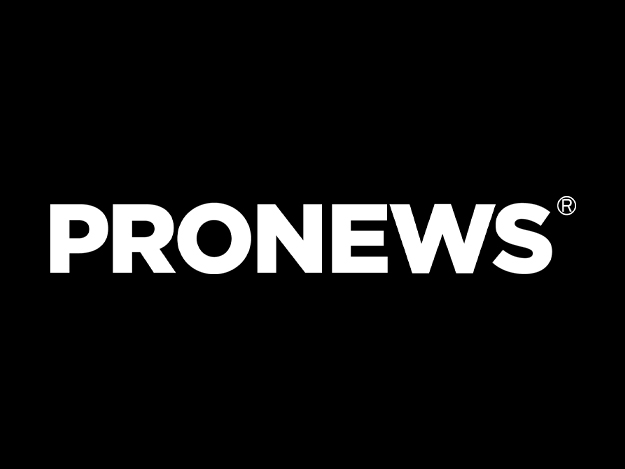 We will mainly deliver new product reviews and event reports by the PRONEWS editorial department.