table of contents
Introduction
Overview of FX30
Impression of FX30 seen from specs
Impression of FX30 seen from the exterior
Impression of FX30 seen from the functional side
3 lenses used
Example video of FX30
Regarding actual operation
FHD HFR image quality
dynamic range
image stabilization
Sense of noise and grain size
heat rejection
Advantages of introducing FX30
Precautions for consideration and introduction of FX30
summary
Introduction
Six and a half years ago, in March 2016, Sony released an APS-C camera called the α6300. At the time, it was a popular model along with Panasonic's LUMIX GH4 in the single-lens video field as a compact body equipped with a 25-megapixel image sensor and specs that could shoot 4K video.
Since then, Sony has rolled out several models including the a6500 and a6600 with in-body image stabilization. And in September 2021 last year, ZV-E10 was released as VLOGCAM. However, all of these models (the basic design seems to be the same) are equipped with a 25-megapixel sensor, and the 4K video was only 24fps with full-angle, all-pixel readout. In other words, for six and a half years, there was no change in the basic video specs of an APS-C mirrorless camera.
Come to think of it, the basic video format is Super35mm. There must be many users who wanted to shoot videos with the latest camera with an APS-C sensor format close to Super35mm. I was also wondering when Sony would revamp its APS-C camera, rather than when the full-frame mirrorless camera α7S III will be released.
Sony has finally announced and released the FX30. Unexpectedly, Sony's new APS-C machine will appear as a "Cinema Line" camera, not as a stills-based mirrorless single-lens camera.
I think there is a high possibility that a mirrorless single-lens camera equipped with the same sensor will be released in the future, but even so, it is surprising and impressive that a new sensor has been introduced from Cinema Line cameras.
Looking back, I am a photographer who has used the α7S, α6300, and the NEX-5N in the past, and has shot many videos with them. Now the main system has moved to other mounts, but Sony's body has always been a concern. This time, due to the limited trial period, there are some parts that I cannot fully dig into, but I would like to do my own review of this camera.
Overview of FX30
Image sensor:

 Newly developed 26-megapixel back-illuminated APS-C
video: approx. 20.1-megapixel, still image: approx. 26-megapixel

Latitude:

 14+ stops (S-Log3)

Focusing method:

 Fast hybrid AF (phase difference detection method/contrast detection method)

Recording format:

 H.264/H.265

Recording resolution:

 Up to 4K (3840 x 2160) H.264/H.265

4K shooting frame rate:


59.94p, 29.97p, 23.98p (without 4K crop)
119.88p (with crop)

Others:

 Equipped with an air cooling fan, not equipped with a mechanical shutter

CFexpress Type A/SD card (x2)

646 g (including battery and memory card), 562 g (body only)

Suggested retail price:


Body only 273,900 yen including
tax Model with XLR handle unit 328,900 yen including tax
Impression of FX30 seen from specs
Unlike the FX3, the FX30 does not have a mechanical shutter. It is also possible to shoot stills using the electronic shutter, but it is a Cinema Line product, so it is natural, but that point is very different from FX3. Also, like FX3, EVF is not installed.
It is better to think of the FX30 as a camera that specializes in video shooting rather than a hybrid of stills and video.
Impression of FX30 seen from the exterior
As already mentioned in this article, the exterior is indistinguishable from the flat design full-size cinema line FX3. Equipped with a full-standard HDMI terminal, it has a shape that follows the well-established FX3 such as an air cooling fan and a tally lamp. In other words, for those who are already using FX3, it goes without saying that the usability is almost the same, making it the perfect sub-machine for FX3.
The body has 1/4 inch screw holes on the top and sides, so simple parts can be attached without a cage. It's a little rough, but if you attach a NATO rail to the main body, you can also attach a handle like the one below. When shooting hand-held with this camera, the author often used this style of shooting.
Weight is lighter than expected. Here are my first impressions of the FX30 out of the box. The FX3 with the same exterior weighs 715g including the memory card, while the FX30 weighs 646g. In addition, since the FX30 is an APS-C format, the total system of the FX30 will be significantly lighter than the FX3 if an APS-C dedicated lens is used. Therefore, a small electric gimbal can be used. This will be discussed later.
Easy-to-read tally lamp
This is also the FX3, but the tally lamp on the back is highly visible, and compared to the recording status display of general mirrorless cameras, the occurrence of reverse tally is greatly suppressed. have the effect of On the monitor side, you can check the REC status with the red frame display, REC button, upper back, front and multiple red lamps.
In addition, although Run & Gun shooting was frequently performed in sample shooting, I never experienced reverse tally during this trial period.
These lamps can be lit in three states: "all on", "front only on", and "all off".
Impression of FX30 seen from the functional side
Video recording format
The FX30 has a maximum recording resolution of 4K (3840 x 2160). The image sensor itself has a horizontal resolution of 6.2K, so high-quality 6.2K oversampling is possible when shooting 60p/30p/24p without using super-resolution zoom.
The recording format may be familiar to Sony users, but those familiar with other companies' cameras should first understand what the recording formats XAVC SI/XAVC S/XAVC HS mean. Each format roughly means the following codecs.
XAVC SI to H.264 ALL-I frame
XAVC S→H.264 LongGOP
XAVC HS→H.265 LongGOP
What impresses me is that the bit depth and chroma subsampling items can be multiplicatively selected for each format. In other words, even with XAVC S, 4:2:2 10bit and 4:2:0 8bit can be selected, so the menu has been devised so that the shooting format can be selected with hierarchical thinking.
Setting movie settings separately from the recording formatRegarding 4K120p, as mentioned earlier, the crop factor is as large as 1.6 times, and it is in a pixel-by-pixel state. If you don't need 4K resolution, FHD 120p might be a good choice. In fact, I used FHD 120p shooting frequently when shooting slow shots at ultra-wide angles, etc., where a sense of resolution is not so necessary.
In addition, 240fps shooting is possible in FHD, but the crop magnification is the same as 4K120p. You should be careful where you use it.
super resolution zoom
Super-resolution zoom is convenient when you want to get one step closer. My favorite camera can be cropped when shooting movies, but Sony has long adopted a "super-resolution zoom" that continuously zooms in digital processing. Since the FX30 has a 6.2K image sensor, it is possible to use a super-resolution zoom of up to 1.5x for 4K video recording and up to 2x for FHD video recording.
Originally an APS-C camera that is strong in telephoto shooting, you can take advantage of its strengths by using this function.
breathing correction
The FX30 has a breathing correction function that electronically corrects changes in the angle of view due to the focal position of the lens. It seems that this is done by correcting the angle of view in real time based on the amount of breathing for each focus position recorded on the camera body side or lens side, but if the lens supports correction, this is done. You can turn on the function.
3 lenses used
This time, I borrowed three E-mount lenses and tried shooting with the FX30. These three lenses are as follows.
E PZ 10-20mm F4 G SELP1020G
E PZ 18-105mm F4 G OSS SELP18105G
FE 200-600mm F5.6-6.3 G OSS SEL200600G
The E PZ 10-20mm F4 G is the latest power zoom super wide-angle lens released in June 2022. It is one that is compatible with gimbal shooting. Despite its compact size, the image quality is sharp right down to the corners, and there is very little breathing (even without electronic correction). A lens made for the FX30 with a short minimum focusing distance? It is a lens that makes you think.
The E PZ 18-105mm F4 G OSS is a standard zoom lens released in December 2013. Although it is a slightly old lens, this lens is one that I have used extensively for bridal photography before. It's been a long time since I've used this lens, but the wide range of shots that can be taken with this single lens made me keenly aware of its convenience. I was able to use the AF operation without any problems during movie shooting.
Both of the above two lenses are power zoom lenses, and you can zoom using either the FX30 body operation, the zoom ring on the lens, or zooming with the zoom switch.
The FE 200-600mm F5.6-6.3 G OSS is a full-frame telephoto zoom lens released in July 2019. This time, I borrowed the same lens for telephoto shooting of airplanes.
All three of the above lenses are zoom lenses, so they are not suitable for shooting in extremely dark conditions, but there is no problem if you are shooting in the evening or in a well-lit city area.
Example video of FX30
The video below was shot using the three lenses mentioned above.
I mainly used the versatile E PZ 18-105mm F4 G OSS, and the E PZ 10-20mm F4 G for gimbal photography. In addition, all cuts, including super-telephoto shooting, use AF.
The FX30 has AF that won't go off even if you take rough shots, and high sensitivity performance that can withstand F4 at night, even if it's not as good as full size. It would be an advantage to use a camera.
Regarding actual operation
Here, I would like to describe my operation method and what I noticed during the trial period.
Compatibility with Gimbal
As I mentioned earlier, the FX30 is an APS-C format, so depending on the lens used, it will be a fairly lightweight system. For example, the total weight of the FX30 with the E PZ 10-20mm F4 G attached is less than 830g.
When I installed it on my ZHIYUN CRANE M3 as a trial, I found that it was a perfect match.
Of course, the pitch and roll are perfectly balanced on the pan (yaw) axis. Also, even with the ND filter attached, the camera does not interfere with the arm.
With this combination, the total weight including the gimbal is about 1560g, so you can shoot with one hand for a long time without any discomfort.
memory card
Similar to recent Sony cameras, the FX3 has two card slots that accept both CFexpress Type A and SD cards. Most video formats can be recorded at V90, but CFexpress TYPE A is required to shoot XAVC SI 4K, which is an ALL-I frame, at a high frame rate.
If you use a V90 SD card, 4K high frame rate with XAVC S/XAVC HS is also possible (4K high frame rate shooting with XAVC HS is possible with V60).
Therefore, CFexpress Type A is only required for high frame rate ALL-I shooting, and if you only shoot in LogGOP, a V90 SD card will do.
FHD HFR image quality
As mentioned above, the FX30's 4K high frame rate shooting has a large crop factor. So if you're shooting 120p without cropping, you'll need to downsize to FHD. Regarding this image quality, I felt that the difference between 4K and FHD was greater than I had imagined. Conversely, it should be said that 4K resolution with 6.2K oversampling is that much higher.
To make it easier to understand, I cut out the central part of both materials at 300% on the 4K timeline, but if you look at the lattice pattern of the building in the center, I think you can recognize the difference between the 4K and FHD shooting data.
When compared side-by-side as above, the low resolution of FHD stands out, but FHD120p has sufficient resolution for FHD (oversampling from 3.1K by pixel binning I am assuming that). It depends on the viewing environment, but if FHD material is upconverted in post processing, I don't think it will cause much discomfort even if it is mixed with 4K video.
dynamic range
On Sony's website, the FX30 has a dynamic range of 14+stops. The following is the result of measuring how much range this range actually has based on 0STOP. The dynamic range was measured at S-Log3 base sensitivity ISO800.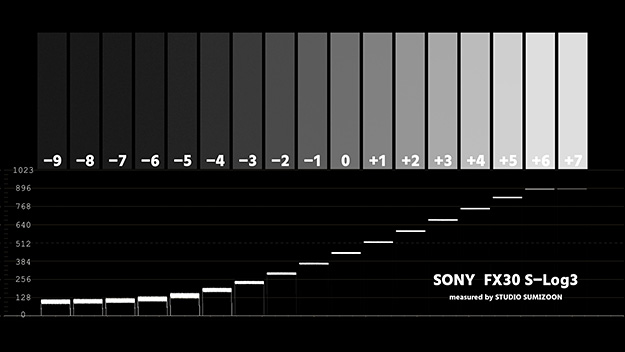 From the above, we found that the FX30 clips at a little over 6 stops on the highlight side with 0 stops as the standard. The range on the shadow side is not enough to calculate the point of SNR=1, but at least -8STOP does not seem to clip the data. Since there is a range of 6+STOP on the + side, it can be said that it has a dynamic range close to full size.
However, in order to take advantage of this range and improve the image quality, it is necessary to have an environment that can display a waveform monitor such as an external monitor. Currently, the display assist function for monitoring the highlights of the FX30 is only zebra, so if there is another display system, I think it will be an environment where it is easier to obtain higher quality images.
When shooting this example, I mainly used S-Log3, and shot with a brighter exposure (ETTR shooting) within the range where the highlight side is not blown out (or not blown out too much), and the exposure is restored in post processing. there is
image stabilization
Regarding camera shake correction, I mainly used the E PZ 18-105mm F4 G OSS, but compared to cameras made by other companies, I get the impression that the swing back behavior is abrupt. It's also a little disappointing that you can't set up the pseudo-fixed shooting that some manufacturers use.
In addition, you can select from two image stabilization modes, "Standard" and "Active", but note that the latter is a type of so-called electronic image stabilization, so the angle of view is limited (cropped). is required. In this example, I shot without using "Active" as much as possible. think.
Sense of noise and grain size
As for the noise resistance of the FX30, I feel that it is capable of being used regularly up to the upper limit of 6400, although it depends on the illuminance of the subject as an impression using S-Log3. If you have a bright lens, you should be able to shoot without problems even in dark situations.
Also, regarding particle size, when shooting without super-resolution zoom using oversampling, the particle size of noise is fine and it is compatible with noise reduction by post processing. As for noise, I didn't compare them side by side, so it's a sensory evaluation, but my impression is that there's not much difference from the feeling when using the α6300.
rolling shutter distortion
When I used the α6300 before, the rolling speed (curtain speed) was slow, so I had to be careful when shooting. As you can see from the fact that the FX30 achieves 4K60p, it achieves a relatively fast rolling speed. Below are the results of curtain speed measurements in two modes, full angle of view 4K24p and 4K120p with 1.6x crop. 4K24p, 4K30p, and 4K60p had similar results.
In measurements using a fast blinking light source of 500Hz,
4K24p/30p/60p curtain speed is 16msec
Curtain speed of 4K120p (1.6x crop) is 8msec
It has become. As for curtain speed, it is by no means faster than cameras that achieve high-speed readout, but it can be said that there are few cases where it becomes a problem in normal shooting.
What is interesting is that the curtain speed at 4K120p 1.6x crop is 1 line faster than when it is operated at full angle of view 4K24p/30p/60p. This seems to have an impact on the image quality of 4K120p, but I would like to verify this on another occasion if I have the opportunity.
Note that when the super-resolution zoom is used, the number of lines to be read is effectively reduced, so the apparent rolling speed is improved. Therefore, if you want to shoot with as little rolling speed as possible, it is possible to reduce the rolling shutter distortion by increasing the distance to the subject and aligning the angle of view while maximizing the super-resolution zoom (although , I don't think there is a shooting need to reduce rolling shutter distortion that much).
heat rejection
Regarding the FX30, there were no cases of thermal shutdown during the trial period. This may have something to do with shooting in the cool season, but since it is equipped with an air cooling fan, the risk of thermal shutdown during normal shooting seems to be quite low.
In addition, the FX30 displays the following when it is first started.
Some video users are familiar with the "automatic power off temperature" setting, but I still often hear stories of thermal shutdown due to not doing this setting. If you set the "auto power off temperature" to "high", the user is at risk of low temperature burns, so it is a function that assumes that you will not hold it in your hand, but even so, you cannot hold it in your hand unless you are shooting for a long time on a hot day. I get the impression that it doesn't get hot.
It is your own responsibility, but if you are going to shoot for a long time, I would like to recommend that you understand the above risks and set the setting to "high".
Advantages of introducing FX30
I would like to think about the merits of introducing FX30 again.
Excellent autofocus for clear background
Readers here know that Sony's autofocus is so excellent that it needs no further explanation. Anyway, when shooting portraits within the normal illuminance range, you can almost rely on AF. Even when shooting airplanes, the only thing that the photographer cares about is how smoothly the pan head moves, and it is possible to take pictures without any difficulty.
Grading resistance
It's been a while since Sony's full-frame cameras have been capable of 10-bit shooting. However, it is recognized that the FX30 is the first Sony APS-C machine to support 10-bit shooting. The grading resistance is also incomparable to that of 8-bit machines, so the FX30 is a blessing for creators who have been troubled by banding during grading using APC-C machines.
Selection as a sub machine of FX3
Although there are some differences in the Log shooting setting menu from the full-size cinema line FX3, as you can see from the fact that it looks almost the same as the FX3, its operation system basically follows the FX3.
In other words, for those who are already using the FX3 and want to get closer to the subject, the FX30 could be the perfect sub-machine for the FX3. In the first place, the FX3 has a high sensitivity resistance because it has a small number of pixels. On the other hand, it can be said that it is not good at telephoto shooting while maintaining 4K resolution. Since the FX30 has a resolution of 6.2K in APS-C format, it can be said that it is a camera that is far more suitable for telephoto shooting than the FX3. FX3 is a good choice if you want bokeh and high sensitivity, and FX30 is a good choice if you want telephoto on a small system.
Precautions for consideration and introduction of FX30
The FX30 is a compact and good camera, but on the other hand, I found it a little difficult to use because I use a camera made by another company. Let's touch on them.
EVF-less point
Videographers tend to think that an EVF is unnecessary, but with the recent improvement in image stabilization performance, opportunities for hand-held shooting have increased. In the case of hand-held shooting, it is easier to check the composition when shooting through the viewfinder, just like with stills, and it is possible to take stable shots with a firm stance. I usually use the EVF for hand-held shooting, but when I tried out the FX30 this time, there were times when I felt the lack of an EVF made it difficult to shoot.
I would like photographers who usually use the viewfinder to shoot with an EVF to be aware of this point. If you absolutely need an EVF, consider using an external EVF via HDMI.
4K120p crop factor
As mentioned earlier, 4K120p has a large crop factor and is shot by a painter close to a 1-inch sensor. Therefore, it is somewhat difficult to express using bokeh. Also, compared to 4K24p/30p/60p, which uses the entire sensor, the noise is a bad impression.
4K120p has a big meaning to be able to shoot while cropping, but it is necessary to carefully determine when to use it before shooting.
Shooting format switching is not possible with one action
The author usually assigns different frame rates to each custom dial, and shoots in such a way that the shooting format can be switched with a single action. The custom dials can be set to automatically update the last set exposure and WB settings, so you can switch between shooting formats simply by turning the dial even in situations where the illumination conditions continue to change. is doing.
This makes it possible to instantly switch between different formats and return to the original format even in the evening, when the illumination changes rapidly, which greatly improves the quality of shots.
I tried to find out if the FX30 I tried this time could have the same settings, but it seems that the camera in question cannot be used in the same way. For example, if you need to set different shutter speeds such as 24p, 60p, and 120p, you will be forced to reset the shutter speed and ISO sensitivity after selecting the format.
There is no problem in situations where you can slowly change the settings, but if there is a better way to change this format, I would like to explore it next time.
summary
Although the description is a little harsh at the end, the FX30, which packs a good balance of functions into a compact package, will be a model that many users will accept.
If we summarize what we have written above, it will be as follows.
The AF gives the impression of being a Sony camera (I can't ask for more for portrait photography)
Has high grading resistance
Suitable as a sub camera for FX3 as an introductory video camera
Tally lamp that prevents reverse tally
High sensitivity resistance that does not pose any problems in use
Dynamic range close to full size
The correction amount and behavior of camera shake correction is not superior to other companies
I haven't tried it in the middle of summer, but (depending on the settings) I have a strong impression of the heat
4K120p crop is a bit disappointing
The operation system is unique to Sony, and it takes some getting used to for those who frequently change settings other than exposure.
Full size has the advantages of full size (high sensitivity performance, shallow depth of field), but it also has the advantages of shooting with APS-C or MFT (telephoto shooting, deep depth of field, total system compactness). lightweight) is also a big one. The point is to have the right person in the right place.
Anyway, full size is not the only camera, but when watching YouTube over the past few years, I think that even content that does not need to be shot in full size has started to be shot in full size (for some reason). Under such circumstances, the appearance of the FX30 has increased the number of camera options (other than full size) that can be used.
I am interested in how this camera will be evaluated in the market, and at the same time, I feel that the FX30 may be a model that will throw a stir in the single-lens video field where full-frame cameras are obsessed.
SUMIZOON|Profile
Since 2011, he has been producing videos regardless of genre, such as landscapes, people, MVs, and review videos, while working as an office worker. She provides videos to equipment manufacturers, writes reviews, etc. Currently, she has over 10,000 YouTube "STUDIO SUMIZOON" channel subscribers. Currently updating "A certain videographer's memorandum blog" presided over by the Facebook group "Single-lens video club".
WRITER PROFILE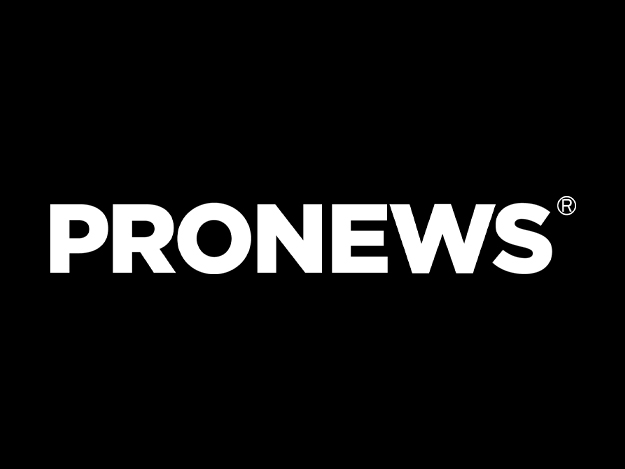 We will mainly deliver new product reviews and event reports by the PRONEWS editorial department.