Many people came to the seminar in Japan where the entire wall was covered with Crystal LEDs.
The first speaker was Mr. Hideya Mukai of Epic Games, who gave a report on the current situation of overseas virtual production studios. It seems that there are about 500 LED studios in the world, and examples of representative ones were introduced with detailed specifications.
The scale of the overseas LED stages is also large, and there were many studios with LEDs exceeding 5m in height and 20m in width. However, the number of LED pitches is often 2.3mm to 2.8mm, and the idea is to make the LED wall large and keep the distance from the subject as much as possible.
On the other hand, Sony PCL and Hibino VFX Studio, which started virtual production in Japan earlier, started with a high definition of 1.5mm pitch, so 1.5mm pitch is the standard. It evolved in the direction of making a small studio by creating a situation where it is fine even if there is no distance between the subject and the LED with high definition. I feel the Japanese temperament that is good at miniaturization and precision.
The same is true for camera tracking systems, most of which are infrared markers in Japan, but about half of them overseas, and there were many cases where camera tracking was done in the same way as motion capture such as OptiTrack.
In LED studios, apart from America, South Korea and Germany have great momentum. It's easy to imagine that South Korea has been developing on the world stage in the fields of movies, dramas, and entertainment in recent years, but Germany is still a car powerhouse. It is a well-known fact that LED studios are compatible with vehicle photography, and in that sense, large-scale LED studios capable of vehicle photography are becoming more prominent.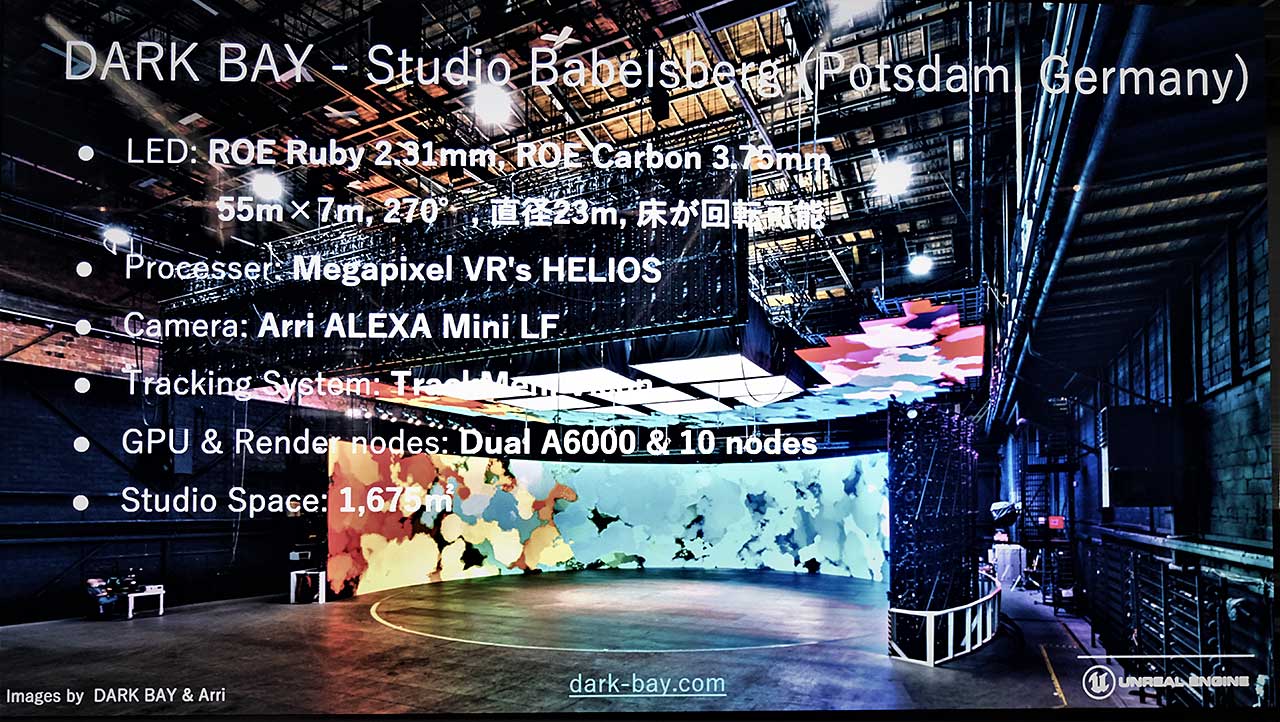 After that, Mr. Takatsugu Ito, General Manager of Sony PCL's Visual Solution Business Department, and Mr. Sousuke Kobayashi, General Manager of Kadokawa Daiei Studio's Sales Department, held a talk session about the actual operation of the LED wall for a limited time at Kadokawa Daiei Studio Stage C. became. Sony PCL has been operating a permanent virtual production studio at the company's creative base "Kiyosumi Shirakawa BASE" since February 2022. It was also interesting to see Kadokawa Daiei Stage C segregation.
At Kadokawa Daiei, the LED wall is flat and placed near the wall, and LEDs for ambient light such as the ceiling are not installed, so it is set up so that it can be used for normal studio work. In a world where LED studios are still figuring out how much demand there is, this kind of easy-to-use style may be wise.
"Kiyosumi Shirakawa BASE" is a studio for projects with many technically challenging elements that combine in-camera VFX and related technologies, and Kadokawa Daiei Stage for projects that require a large-scale set or studio-like environment rather than a screen process It is also easy to use that the characteristics are clearly separated from C.
Next, Omnibus Japan's VP/VFX Producer Takehiro Tokushige and VP/CG Director Shinya Kondo talked about the difference between pre-rendered CG and real-time rendered CG. While touching on the activities of Metaverse Production, which has been working with them, we heard valuable opinions on how to optimize for Unreal Engine what has been created with Maya and 3ds Max.
However, what is more interesting is that there was a detailed technical explanation about the difference between working on the desktop and outputting to the LED wall.
Basically, the LED studio environment uses high-brightness LEDs with a wide dynamic range of HDR 1000nit. Since the PC monitor I usually work with is an environment of 250-350nit, it is not possible to reproduce the actual situation at the site. I thought the only way to confirm this was to use the same system and output to the same LED panel.
However, the test using the same studio as the actual production is the timing of checking the playback of the assets that are about 1 week to 10 days before the shooting date. At that time, there are various things such as "Is the asset playback speed maintained?" "Are there any display problems?"
Therefore, we used an image close to the HDRI (high dynamic range image) image that is usually used for backgrounds, etc., and in the post-processing in UE5, we narrowed down the brightness to the point where the high-brightness part of the HDRI is barely visible, and the gradation of the high-brightness part of the UE asset I felt that the work process of proceeding while confirming was sufficiently effective in terms of increasing reality and shortening the test time.
At the end of the seminar, Mr. Mototaka Kaneko and Mr. Yuta Shimada from Studio Bros. explained the system for establishing a virtual production studio and gave detailed advice based on their experiences.
It was interesting to hear the mention of the position of VAD (Virtual art department), which is a position you don't hear about in the normal shooting workflow.
When I heard that, it made sense to me because this is exactly what I had been doing at a company called Chapter 9. With the name VAD, it is easy to understand even at the shooting site. It is a department that covers everything from preparing CG assets suitable for VP to stage operations during filming.
Considering that with the shift to digital photography, the position of DIT (Digital Imaging Technician), which did not exist in the days of film and tape, has now taken hold as a matter of course. Maybe.
And with Mr. Kaneko's advice to those who are starting the LED in-camera VFX studio business, we moved to a social gathering and an in-camera VFX demonstration. The OptiTrack system, which is quite rare in Japan, was provided by SPICE.
However, the nearly 4 hours devoted to maniac content so far was a considerable volume. If you are an in-camera VFX experienced person, I think this is a conference with a lot of harvest. However, for those who came only out of curiosity, it may have ended with just being overwhelmed.
At a later date, the archived video and slides of this event will be released on the Epic Games site, so when it is released, we suggest everyone take a look for themselves to deeper their understanding.