Canon Marketing Japan exhibited a concept model of a new VR camera at the company's booth at the "PHOTONEXT 2023" photographer and photo business fair held in Yokohama from June 6th. From its appearance, you can see that this camera is a 360/180 3D hybrid specification that allows VR shooting by switching the viewing angle arbitrarily. This time, I would like to take up and introduce this product in this series of articles as soon as possible.
Overview
PHOTONEXT is held every year as an exhibition that proposes the latest photo business, and in 2023, 85 photo-related companies were exhibiting at Pacifico Yokohama B Hall on both days from June 6th to 7th. Many companies involved in photo studios and along with bridal businesses also participate. This year's catchphrase is "More Professional."
At the Canon booth at the venue, the only eye-catching thing was the reference exhibit of the new VR camera. In 2021, Canon released the EOS VR SYSTEM, which enables the company's first VR video shooting. The camera exhibited this time however is for consumers, unlike the EOS VR series. It is said to be in the V series category of PowerShot, which is a new area of ​​the company.
What we can learn from this exhibition
The model exhibited this time is a mockup and is not yet in a state where it can actually be used or tested. In addition, specifications, prices, sample videos, etc. were not yet released. It has a rectangular shape and a size that makes it easy to carry around.
By default, the front and rear lenses can shoot 360° 2D. The lens layout is offset rather than completely back-to-back. Also, when one lens is raised, 180° stereoscopic photography is possible. In other words, it is a VR camera with two roles. On the right side when facing the front, there is a cover for the activation button, card and battery slots. On the left side, the mode button, WiFi button, and USB type C terminal are lined up. Since there is no handle, basically it is realistic to use accessories such as grips and selfie sticks for VR shooting.
The caption of the exhibition reads, "V Series Concept Camera 360° 180° 3D VR Camera A concept camera capable of shooting both 360° omnidirectional and 180° 3D VR images."
In May, the pocket-sized "PowerShot V10" Vlog camera  was announced, but the VR camera that was exhibited this time will also be positioned as a new digital camera series in Canon PowerShot. Regarding the concept model this time, detailed information such as specifications has not been released at all, but I expect it to be a high resolution that matches the times.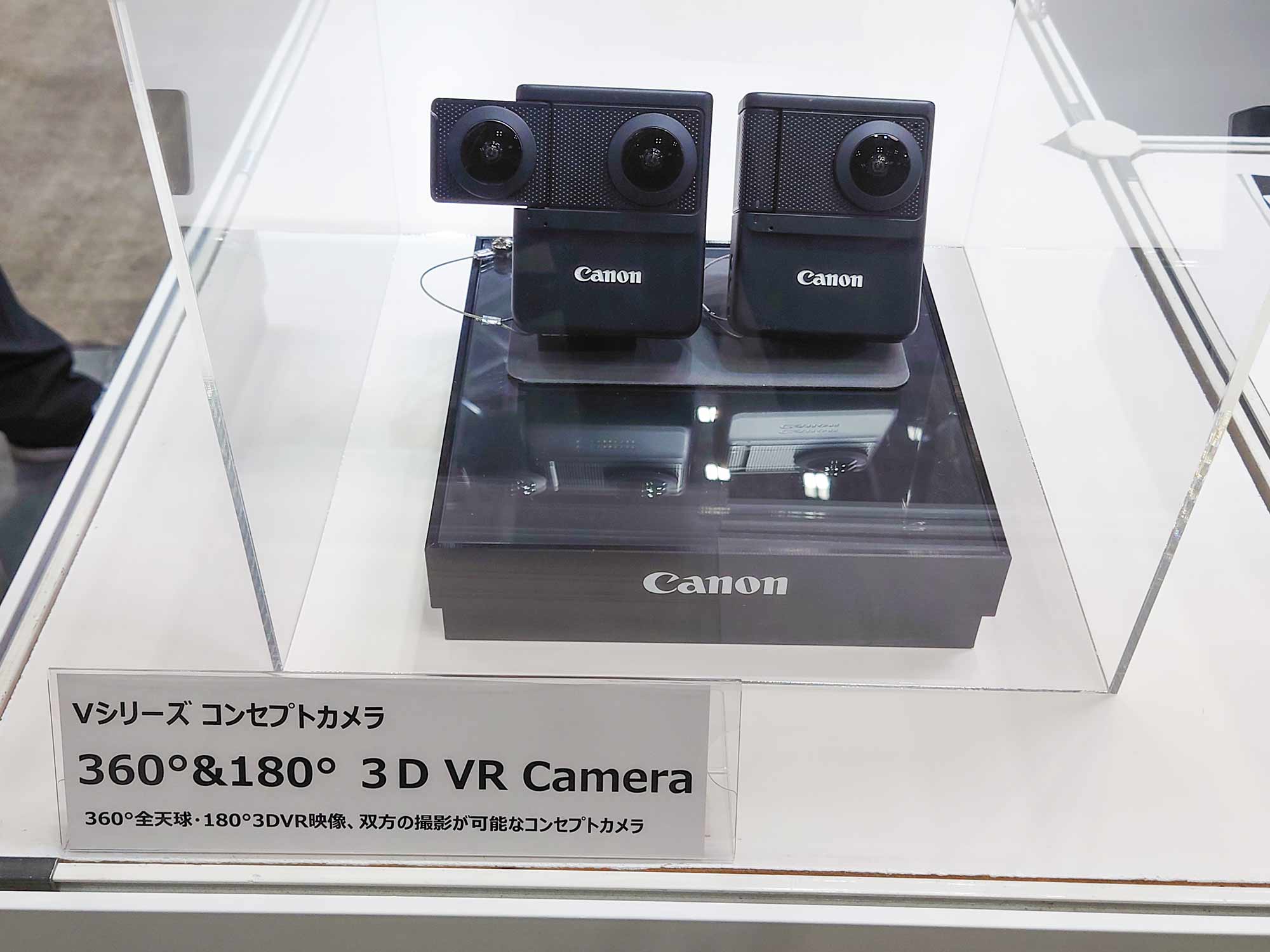 About Canon's VR Imaging Initiatives
In the past, Canon has exhibited VR video R&D-like demonstrations at Canon EXPO and NAB SHOW, but the EOS VR SYSTEM released in 2021 was the first to be actually commercialized.
The EOS VR SYSTEM was initially the world's first RF mount full-frame mirrorless interchangeable-lens camera capable of 8K internal recording, the EOS R5, and an RF5.2mm F2.8 L DUAL FISHEYE lens. Started as a system that can record 3D VR images.
The following year, the EOS R5 C of the CINEMA EOS SYSTEM series for full-scale video production was added to the lineup. Furthermore, at the end of last year, the EOS VR Utility/Plugin for VR conversion was updated to V1.2, greatly expanding its functions. The standalone app EOS VR Utility now supports RAW video, making it possible to take advantage of the EOS R5 C's maximum 8K 60fps advantage. In addition, speeding up processing by adding GPU support options (VR Plugin), adding speed priority options (VR Plugin), speeding up processing by adopting high compression HEVC (VR Utility, Win version only), Apple Silicon Functions such as support (VR Utility/Plugin, Mac version) and lens mask function (VR Utility/Plugin) have been added.
In addition, it is now compatible with clips shot with models other than officially supported cameras, and although it is not guaranteed to work, the number of compatible models is substantially expanding. Specifically, EOS R3 / EOS R6 / R6 Mark II VR target movies (MP4 and RAW movies) and JPEG images recorded with the camera. This applies to JPEG images developed from RAW still images of EOS R5/R5C/R3/R6/R6 Mark II (when using EOS VR Utility/Plugin V1.2. Some functions are limited).
Summary
In 2018, after Google proposed the VR180 format, 180 degree 3D cameras such as Lenovo's Mirage camera and Z Cam's K1-Pro appeared one after another. Among them, there were some hybrid models that can use both 360 and 180, such as Kandao's original QooCam, Insta360 EVO, and HumanEyes Technologies' VUZE XR. YI Technology's Yi Horizon VR180 and Kodak's concept model were also shown. Canon's concept model this time is also in that lineage.
In the recent VR camera market, from the end of last year to this year, Labpano in Shenzhen, China released PilotPano. Kandao also announced QooCam 3 and QooCam 3 Ultra. Furthermore, in the VR180 area, TECHE in Hangzhou, China and FXG VIDEO SCIENCE AND TECHNOLOGY have released new models and are showing signs of booming.
Yesterday, at WWDC23, it was announced that the MR headset "Apple Vision Pro", which was finally announced, will support 180 ° high resolution "Apple Immersive Videos" that supports spatial audio. We can expect the development of VR video.
The long-awaited new VR camera from Canon, Japan's top manufacturer, offers the 360° shooting function suitable for capturing space and the 180° advantage of achieving both stereoscopic vision and immersion in a single unit. Since it is a 2 in 1 specification that has both, you can use them properly as needed.
If the concept VR camera that was exhibited this time is released, it is expected that as an entry model, the base of users, creators, and businesses using VR video will expand, leading to its spread. Furthermore, you can expect to be able to work on more fulfilling VR video shooting in cooperation with EOS VR SYSTEM. I can't wait for the official announcement and release.
WRITER PROFILE
Filmmaker, photographer, VR content creator, YouTube Space Tokyo 360 video instructor. Google's project VR Creator Lab Mentor. He presides over the VR study group "VR Mirai Juku".