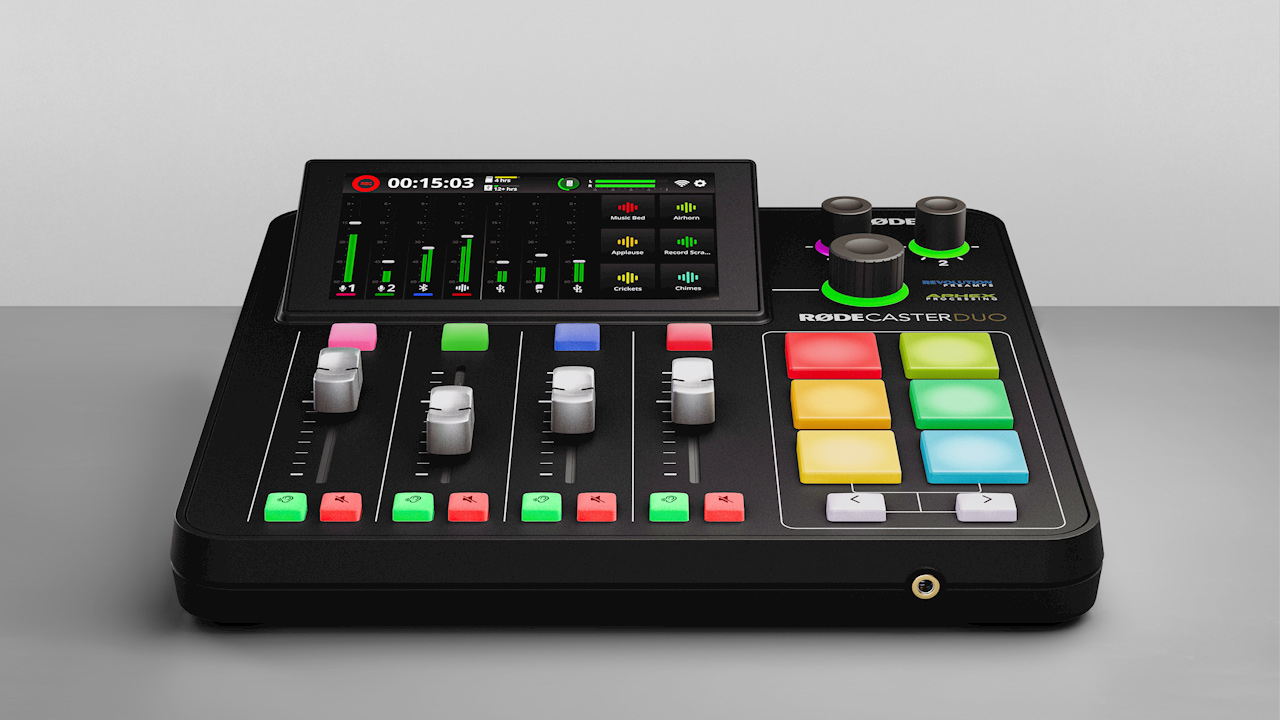 RØDE will release the new RØDECASTER DUO audio production tool on October 6, 2023. Suggested retail price is $499.00. Information is available here at this link.
RØDECASTER DUO is a convenient audio production tool for all kinds of content production. This can range from including live streaming, music production, podcasts, and radio, with the same functions as RØDECASTER Pro II packed into a compact body.
With features that are more than just an audio mixer, excellent sound quality, an easy-to-use interface with an intuitive design, high customizability, and a convenient size for recording by individuals or small groups, users can easily get the best audio with this one unit.
RØDECASTER DUO: High-quality sound made easy
RØDECASTER DUO is a versatile and powerful tool, yet extremely compact in size. The device can be brought on-site, or placed on a desk where space is limited.
In addition, the power is supplied by USB-C PD (9V, 3A). In addition to the included power adapter, it is possible to attach a mobile battery that meets the power specifications. It enables recording and distribution from any location without having to do anything extra.
Connect to any audio device
In addition to connecting a microphone via the combo jack, it is possible to connect a headset via the 3.5mm TRRS terminal, and connect up to two devices such as a PC or smartphone to the USB-C terminal at the same time, allowing audio input and output from each. In addition, the Bluetooth communication function allows output to wireless speakers and input/output to smartphones, making it easy to record calls.
Furthermore, it is possible to pair up to two RODE Wireless Go II and Wireless Me transmitters and assign physical faders to each. This allows users to create settings with a high degree of freedom without being tied down by cables.
SMART pad
SMART pads provides a variety of options for users. Register up to 8 banks of 6 pads to which functions can be assigned individually. These can be used to switch audio effects such as reverb, echo, pitch, and robot effects on the fly, send MIDI commands to external software, and assign mixer operations such as fade in and fade out. The SMART pad can also play sound effects, BGM, samples, jingles, and other sounds.
RØDECASTER DUO REVOLUTION Preamplifier
The REVOLUTION preamplifier developed by RØDE is ultra-low noise and high gain, delivering crystal clear, high-resolution sound from any microphone or instrument. Equipped with two Neutrik combo jacks, this unit can handle everything from live streaming with a single microphone to multi-track recording for podcasts. Additionally, in addition to two headphone outputs and two balanced line outputs on the back of the body, there is also one headset input/output on the front of the body for easy use.
Equipped with APHEX audio processor
Powered by APHEX audio processors, one of the trusted brands in the pro audio world, it includes emulations of processors including Aural Exciter, Big Bottom, Compellor, and more.
In addition, the compressor, noise gate, high-pass filter, de-esser, and equalizer installed in each channel setting also use APHEX.
RØDECASTER PRO Customization
Every item can be customized to suit individual recording environments, ideal workflow, and desired sound. Assign the input system to each fader, make detailed sound quality adjustments for each processor and effect, pre-fader/post-fader settings for output and recording, and adjust the LED color and brightness of each button to suit users' setup and preferences. Additionally, customized content can be saved and switched as presets as "shows."
RØDECASTER Comparison Table
caster duo
caster pro ii
Combo jack input
(XLR, 6.3mm TRS)
2 base
4 base
headphone output
2 base
4 base
physical fader
4ch
6 ch
virtual fader
3ch
3ch
SMART pad
6
8
USB-C terminal
3 units
(power supply x 1, data communication x)
3 units (power supply x 1, data communication x 2)
Headset input/output terminal
(3.5mm TRRS)
1 base
none
Wireless microphone connection
(Wireless Go II, Wireless Me)
Maximum 2 units
Maximum 2 units
Specifications
frequency band
Microphone input 20Hz – 20kHz Monitor output 20Hz – 20kHz
input impedance
Mic input 4K Ω Line input 1M Ω
Line output maximum level
4dBu
headphone output
250mW
equivalent noise level
-131.5dBV (A-weighted)
Preamplifier gain range
0-76dB
analog input
Combo jack x 2 3.5mm TRRS headset jack x 1
analog output
Balance line x 2 Headphone x 2 Headset x 1
USB input/output 1
2 in/14 out multichannel device or 2 in/2 out (with mix minus)
USB input/output 2
2 in/2 out (with mix minus)
bit depth
24bit
sample rate
48kHz
Compatible recording media
microSDHC, microSDXC, USB-C removable drive (exFAT- min. 100MB/s)
data transfer rate
130MB/s (USB 3.0 and SD card reader)
network connection
Wi-Fi 802.11g/n/ac 2.4GHz and 5GHz, Ethernet
100/1000
System requirements
macOS 10.15 or later, Windows 10 version 1803 or later, Windows 11
internal storage
4GB (for SMART pad)
power supply
USB-C PD(9V、3A)
size
H7.6×W22.5×D23.5cm
weight
1131g
What's included

Power adapter, USB-C to USB-C cable