Color variations of the Steinberg UR-C series USB audio interface jointly developed by Steinberg Media Technologies GmbH (Steinberg) and Yamaha Corporation on October 20, 2023. The lineup and suggested retail prices are as follows.
UR22C RD (red):

$150

UR22C GN (green):

$150

UR44C RD (red):

$240

UR22C RD Recording Pack (Red):

$245
The UR22C RD, UR22C GN, and UR44C RD to be released this time are members of the Steinberg UR-C series of USB audio interfaces that operate on iPad/iPhone/Mac/Windows. They can record and play back with excellent sound quality under stable operation. Two new colors, red and green, have been adopted for the casing surrounding the front panel so that you can choose according to your production environment and preferences.
The UR22C RD Recording Pack bundles the UR22C RD with studio monitor headphones and a studio condenser microphone.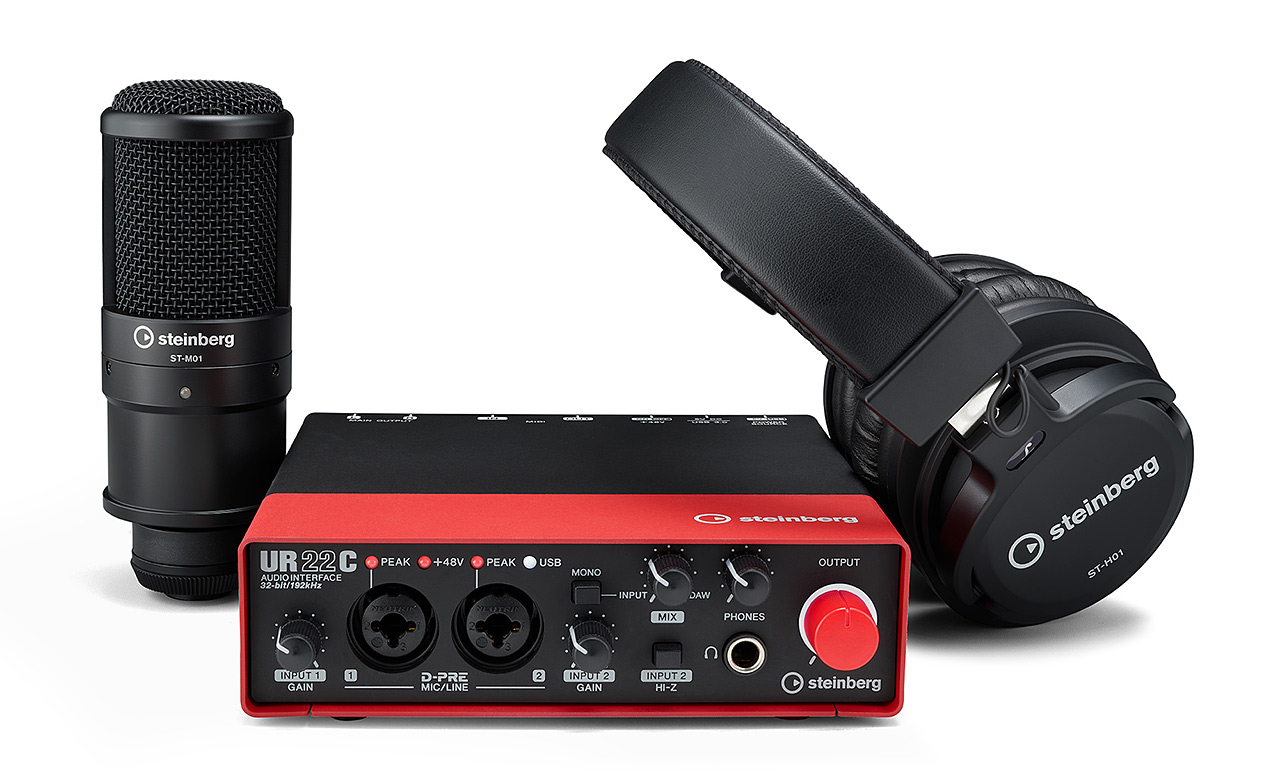 The specifications are the same as the already released "Steinberg UR-C series," with recording and playback is possible at a high resolution of up to 32 bit integer / 192 kHz. Also contains a USB 3.0 (USB Type-C) compatible terminal to achieve high sound quality and high functionality. It also works with "dspMixFx" technology, enabling latency-free monitoring environment and DSP effect processing.
Included software
Cubase AI:

 A special version equipped with the basic functions of Cubase, a music production software. Equipped with the same core technology as Cubase Pro and a cutting-edge high-quality audio engine, it has a wealth of composition, recording, editing, and mixing functions.

Cubasis LE:

 multi-touch DAW app, simplified version of Cubasis

dspMixFx UR-C:

 Built-in DSP provides latency-free monitoring matrix and effects (Sweet Spot Morphing Channel Strip/REV-X/Guitar Amp Classics)

Basic FX Suite:

 Sweet Spot Morphing Channel Strip/REV-X/Guitar Amp Classics VST 3/AU/AAX plug-in versions of effects are also included.
Attached effects
REV-X reverb
Sweet Spot Morphing Channel Strip
Guitar Amp Classics
Clean
Crunch
Drive
Lead