Contents
Introducing SIRUI's anamorphic lens "Shinuchi"!
Testing on the Sony FX3
Check the operating system!
Surprised by wide angle
Every lens is cinematic
Horizontal development that impresses when editing
This is a series that will keep you waiting
SIRUI official store price
35mm T2.9 1.6× full-size anamorphic lens: 262,900 yen including tax
50mm T2.9 1.6× full-size anamorphic lens: 220,000 yen including tax
75mm T2.9 1.6× full-size anamorphic lens: 220,000 yen including tax 100mm
T2 .9 1.6x full-size anamorphic lens: 262,900 yen including tax
1.25x anamorphic adapter: 122,650 yen including tax
Contact information
SIRUI Optical
Introducing SIRUI's anamorphic lens "Shinuchi"
These days, I'm a little addicted to anamorphic lenses, but when the request to review this lens came this time, I was so motivated that there was no reason not to accept it. I previously wrote on the SIRUI PRO CINEMA anamorphic 1.33X 4-lens set, but this time the SIRUI full-frame anamorphic lens series may be positioned as a true hit. That's because this series is something that I was seriously wondering if I should buy when SIRUI's overseas crowdfunding was being held.The SIRUI 24mm F2.8 anamorphic lens was an extension of the still lens, and the magnification was slightly modest at 1.33x, but if this full-frame series were not released, it would be an option. Of course they come in. The lens itself is very compact, but the image quality is quite good, so it was a good option. However, the specs of full-frame, 1.6x and the fact that the focus and aperture are completely cinema lens specifications had an impact that changed my mind. Yes, this is a perfect cinema lens.

It's a matter of appearance, but the size is not too big and not too small, and the solid metal feeling is not bad. Each lens comes with a lens supporter, so you can have a sense of security even if you don't need it. A 100mm lens weighs 1486g with an RF mount, so I'm at a loss as to whether to support the tripod with just the main body or build a rig and also support the lens.

Having a lens supporter is definitely better because it gives a better sense of stability and reduces the burden on the mount. So, this time I decided to receive it only on the main body side.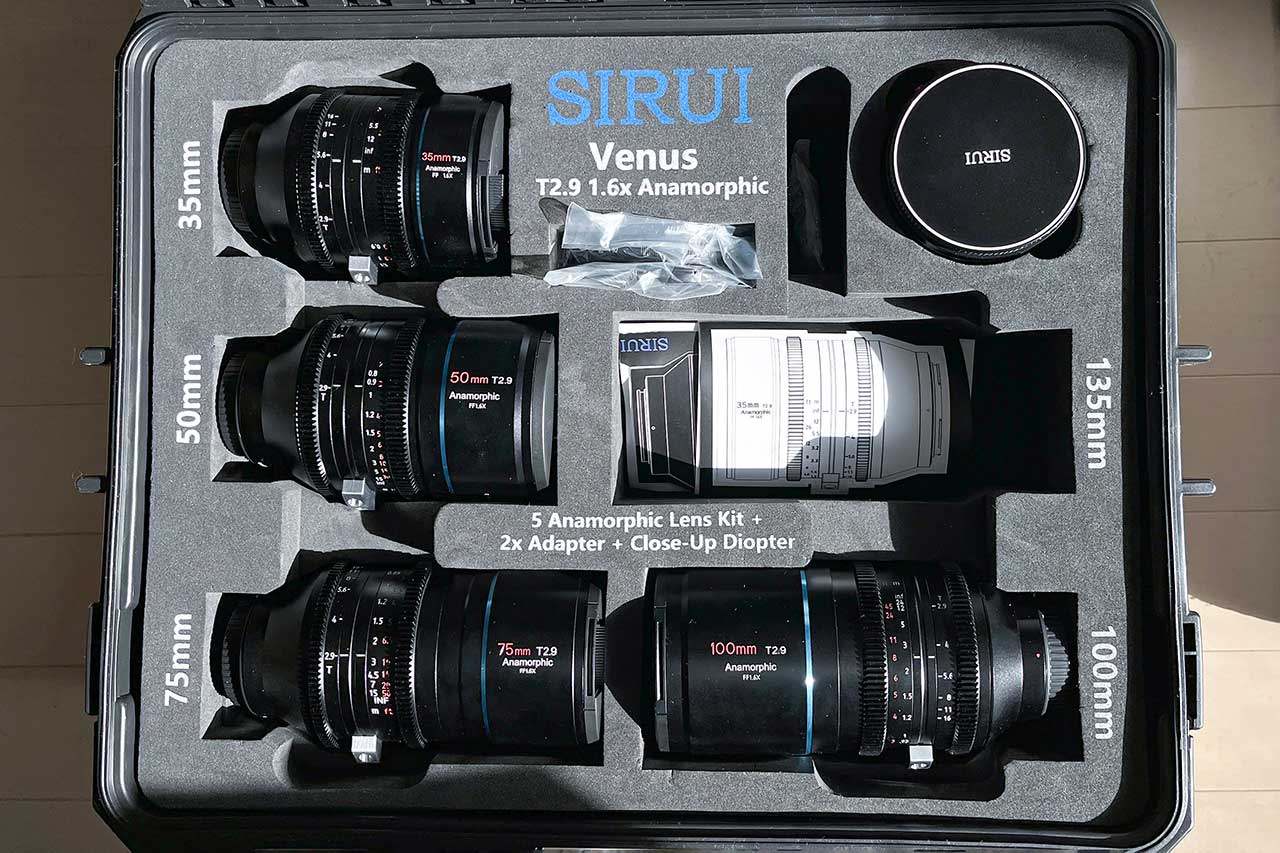 The case in the photo is the same when I purchased the full set. Not included with single purchase I think that one of the manifestations of the recent low-priced cinema lenses that are working hard is the texture and size. In particular, the rise of Chinese manufacturers is remarkable, and they are not only improving optical quality, but also sticking to the texture of the housing. Like SIRUI this time, DZOFilm and GREAT JOY, which is still unfamiliar in Japan, can be obtained at this price.
The composition of the full-frame series this time is the 100mm T2.9 1.6x full-size anamorphic lens, which was announced in advance, starting with the 35mm T2.9 1.6x full-size anamorphic lens, and the additional 50mm and 75mm T2.9 lenses. Added 1.6x. Interestingly, all lenses have a maximum aperture of T2.9 in 25mm increments. From the point of view of the photographer, there is no change in the aperture value when changing lenses, so it is easier to organize your mind.
Testing on the Sony FX3
This time, I borrowed FX3 as a test machine on the main unit side and reviewed it. I will also touch briefly on FX3. At the time of the announcement, I was also hesitant about this one, but since I owned the α7S III at the time, I couldn't feel the difference even when I compared the specs on the web, so I didn't end up replacing it. To put it simply, it was a decision that there was no need to buy a new one. While remembering that, when the actual machine came to hand, for a moment, I thought…
However, when I started using it for testing, I was faced with a reality that this camera is clearly a video-specific camera model. First of all, screw holes for mounting accessories are prepared on the main body. Of course, this is to make it easier to attach arms and rigs, but if it is mounted on the main unit itself, it is likely that it is conscious that it is a device mainly used for video production.
Although the appearance of the REC indicator and the REC displayed on the screen surrounding the monitor may be an eyesore, I realized that this is truly a blessing. There were times, such as when I was in a hurry and started an interview at the scene, that I didn't press the start button that I thought I had pressed. I believe that there is. This is the worst.
However, the FX3 displays a red box on the monitor during REC, and it will come into view no matter what, so you may not be involved in the incident of forgetting to press it. This is a casual and silly oversight, but I think it's a common incident in one-off surgery, so looking back, I regret that if I had this function, I would have noticed it immediately. Such a small casual difference will be understood only by using it. By the way, the diameter of the microphone holder did not match the Sennheiser MKE 600 gun microphone I had, so I dealt with it as an emergency measure. There is a site, but this form is OK as long as it functions.
Check the operating system!
Back to the main topic! First, check the operation system. It may be difficult to see in the photo because the front lens side is lined up, but it uses a parfocal design in which the position of the gears does not change depending on the lens. I think this has become a standard way of thinking about cinema lenses. It is difficult to re-set the follow focus every time the lens is changed, and if the position of the follow focus is changed, the feeling will change slightly, so I would like to continue to use this parfocal design in the future.
If you look into the lens from the front lens side, you will naturally see an elliptical window in the back. This is a feature of the so-called anamorphic lens, which compresses the horizontal ratio by forming a vertically elongated ellipse. This is the same for both 35mm and 100mm. And what I found interesting was that it was a perfect circle when viewed from the rear lens. I haven't been able to investigate this enough to dig deep, so I would like to ask for the understanding that it was. Maybe it's not that big of a deal…
There are two things that bothered me about the operating system. First, each lens has a different focus ring rotation angle. 35mm is 120°, 50mm and 75mm are 95.5°, and 100mm is 100°. There is a difference in terms of numbers, but the feeling of use was not so uncomfortable. However, since the angle is surprisingly narrow for a cinema lens, it may not feel out of place from a still shot, but it may feel quick to those who are used to cinema lenses.
By the way, Sigma's cinema lenses are 180 degrees, and most other cinema lenses are 270 degrees. Especially, the wide angle seen in cinema lenses makes it easier to make fine adjustments with a focus puller (staff specializing in focus). Become. If you're trying to set up a rig and try to focus manually, it's difficult if the angle is too wide because the rotation operation becomes large, but if you have an electric follow focus, there's no problem.
Also, the hardness of the test machine's gears was different, so I was worried about the imbalance. The smoothness and hardness of the gear are important factors, so I would like you to make a good balance. In particular, the smoothness of the gears is the most important point when choosing a lens.
Surprised by the wide angle of view
Now, it's finally time to shoot, but since the FX3 itself is compact, I thought it would be better to attach a small external monitor to make it as light as possible. As a result, there was a big blunder that it wouldn't move when shooting, and in the end I had no choice but to focus on the smaller monitor on the main unit, which made me a little unfocused. Moreover, the excellent autofocus built into the FX3 doesn't work with manual lenses, so there's no way around it.
Having said that, the moment I held up the camera and looked at the monitor, I was surprised by the wide angle of view. Of course, it is compressed horizontally on the monitor, but my honest impression is that I thought, "I can see this much." The first one I tested was 35mm, so I guess I thought so. The combination of a full-size sensor and an anamorphic lens can fully express the spaciousness, so I think it's a good combination for those who want spaciousness anyway.
Since it is a full-frame, the wide angle of 35mm is captured as it is, and since the width is expressed 1.6 times on the lens side, it is roughly converted to the equivalent of 22mm. On the other hand, when using Super35, it swings to the telephoto side, so the super wide angle has become a wide angle. In other words, it is quite attractive. When editing, I was impressed that the actual image could be taken so wide. I think you'll be surprised when this actually unfolds.
Every lens is cinematic
And I would like you to check the angle of view and the taste of image quality by capturing with each lens.
All in all, I think it all boils down to a cinematic taste. Conversely, if the image does not look cinematic, it cannot be called a cinema lens.
And I wonder if it's a soft image with a mysterious feeling, or a little sweetness of the pin. If this is a lens with a crisp image, the sharpness of the focus will stand out, and it will be a disappointing disappointment. All I have to do is take a picture again…
However, if there is softness in the image, it will spoil it well, so is that possible? ! That's what I think. Of course, it's desirable to be in perfect alignment, but documentary films and the like may help. After all, in a one-shot shooting environment, unexpected results can occur during editing.
Also, I imagined that there would be blurring and distortion at both ends in the horizontal direction, but the blurring was not noticeable, and the distortion was only felt when the camera was shaken. This is where the difference with high-priced lenses comes out, but the price is 1/27 (ARRI 35mm T1.9 Master Anamorphic Lens sells for $41,670.00 overseas).
When you think about it that way, your sense of value will be determined by where you drop off from your shooting environment or budget, so on the contrary, I think it's an evaluation that you can shoot so far at this price.
What I want in an anamorphic lens is a wide angle, so I tend to be attracted to wide-angle lenses, but what I felt anew in this test was that there is an anamorphic lens on the telephoto side. At telephoto, the subject is inevitably in focus, so I thought it would be useless to ask for a wide spread in the horizontal direction.
However, when I saw an image that stretched horizontally without changing the vertical direction of the subject, all I could think of was the possibility. Because I can see the invisible part that I thought was obvious without being able to see it. In particular, the lens that I tested last time (1.33x) has a larger spread (1.6x), so I think I feel it more. And since the image is still more cinematic, you can easily shoot like a movie in a good way.
Horizontal development that impresses when editing
Above all, I realized that the excitement during editing was greater than the surprise during shooting. When the footage is simply lined up, it looks like a row of images like Choro Q, but when the horizontal scale is adjusted, it suddenly makes me wonder if this is a Countach (flat).
If you look at the capture, all the cars running will look like Choro-Q. However, when expanded horizontally, it replaces the cropped clip with the 16:9 sequence ratio unchanged. Since this is further cropped from Cinemascope size 2.39:1 to 2.85:1, it will be replaced by ultra-horizontal images, which is also a recent trend. I can imagine the people who lean forward with this alone.
And since there is a feeling of stretching horizontally (zooming), I thought that the image quality would naturally deteriorate, but it seems that I was hit by a watermark. There is no distortion or blur that tends to appear at the edges, and the image is perfect. It seems like I'm telling myself, but it's a lens that can be used if you can focus properly. However, as I wrote earlier, there is also a bosom to accept the sweetness, so I can only think that it is interesting.
The lens set also included a 1.25x anamorphic lens adapter. Actually, this is what I was most concerned about. Because when crowdfunding was held, this was also on sale, and I was worried until the last day (last day) whether to buy this alone.
The reason for this is that I thought it would be possible to attach it to my existing lens. In other words, the possibility of being attached to the RF lens attached to KOMODO. I was moaning that the cropping problem due to being a Super35, which I was dissatisfied with, would be solved at once.
However, what I didn't buy at that time was that I couldn't find out how much vignetting would be possible with ultra-wide-angle lenses such as 11mm and 14mm. That anxiety didn't lead to a final decision, and I ended up just looking at it, so I was at a loss for a boat-like appearance. That's what I thought, so I tested it.
When I was looking at the catalog, I wondered how to align the top and bottom, but all I could think of was that the red button would solve the problem. Since there are individual differences in the alignment of the mounting gears, it is not necessarily fixed at the correct position when it is fully turned.
If the tip of the inner elliptical window (where the angle is narrow) is not properly set up and down, horizontal compression will not occur. The point of this adapter is that when you press the red button when it is closed, the diameter of the lens rotates step by step, and when you stop at the top, the tip of the ellipse moves up and down properly.
Of course, the lens will be heavy, but the RF lens series itself is light to begin with, so this is acceptable. And above all, the fact that the cropped and zoomed image can be expressed in the same size as a full-size sensor is an impressive experience that adds to the worries I've had until now.
The only thing I had to be careful about was the vignetting at the ultra-wide angle, which I was initially concerned about. After mounting, I found that vignetting is definitely vignetting at 14mm, and vignetting is removed from around 16mm. In that case, 16mm x 1.31 = 21mm is 1.25x wider than 21mm, so it will be the same value as a full sensor of 16.8mm.
In other words, what was almost cropped is comparable to the full sensor and is eliminated. A crop factor closer to 1 (1.05 in this case) is better, so I'm very happy about that. Moreover, I can use the KOMODO autofocus, which I don't trust very much. If you are worried about the monitor and your own eyes like this time, it will be a big insurance.
This is a series that will keep you waiting
So, what I was worried about was the image quality, but since KOMODO can be monitored while it is spread out horizontally, when I looked into the monitor, I couldn't help but see dots. "This is it, this is what I was looking for." As for the image, although there is some green color bleeding on the edges that can be seen when some adapters are attached, it feels like it can be used without problems if you devise the way you shoot. You can see the vignetting at the ultra-wide angle, and you can see the reflection, which is good.
By the way, as for this type of adapter, the Moment 1.33x Anamorphic Lens Adapter and GREAT JOY's 1.35x Anamorphic Lens Adapter compared by SIRUI manufacturers are also available, so it may be a fierce battle zone in the future. It is very welcome to change the hand-held lens to an anamorphic lens.
I have a feeling that low-priced anamorphic lenses will probably be used a lot from now on. If you were to ask whether it would be a complete replacement for a normal lens, the answer would be NO, but creators who are dissatisfied with the horizontal development will only hear screams of joy.
SIRUI is in the pioneering position of anamorphic lenses in this price range, and although the quality of this lens series has been mentioned above, my expectations for what will come out in the future have also increased. . And there is no doubt that the anamorphic lens will expand the range of image expression.
Kazumi Matsumoto (mkdsgn)|Profile
Based in Tokyo and Asahikawa, Hokkaido, he produces films centered on social films and documentary films. From directing to shooting, we are also pursuing the possibilities of a single operation. In August 2021, a documentary film about the testimony of the atomic bomb survivors of Nagasaki will be released in theaters. In April 2022, "The Beginning of a Journey," which deals with children's whereabouts, and in August, the second testimony film of Nagasaki A-bomb survivors and the testimony film of Hiroshima A-bomb survivors will be released in theaters. In January 2023, "-25°C simple life," which proposes a lifestyle that is easy to live, and in March, "dog and people," which follows the relationship between dogs and people to prevent the creation of rescue dogs, will be released. Together with the Theater Cinema Group, we will also launch the "SDGs Share Project", and first of all, we will make films about social issues with the theme of "getting to know".