In this PTZ Review, our staff interview people who work for BirdDog and Avitok, two remote camera makers. They give us valued insight about what NDI-chip cameras can do for work, and also about AI tracking functions.
Interview originally conducted in Japanese by: Yuto Izumi
Contents
"AVITOK" Lineup
"BirdDog" Lineup
Avitok-brand PTZ Cameras are known for their AI tracking and their low cost. BirdDog is a new player into this market. In Japan, ASK M&E Company distributes BirdDog and Avitok products. PRONEWS Japan's reviewer, Yuto Izumi, interviewed Misao Yamamoto, who is in charge of product acquisition at ASK M&E Company. This PTZ Camera Review is an interview about the appeal of both products.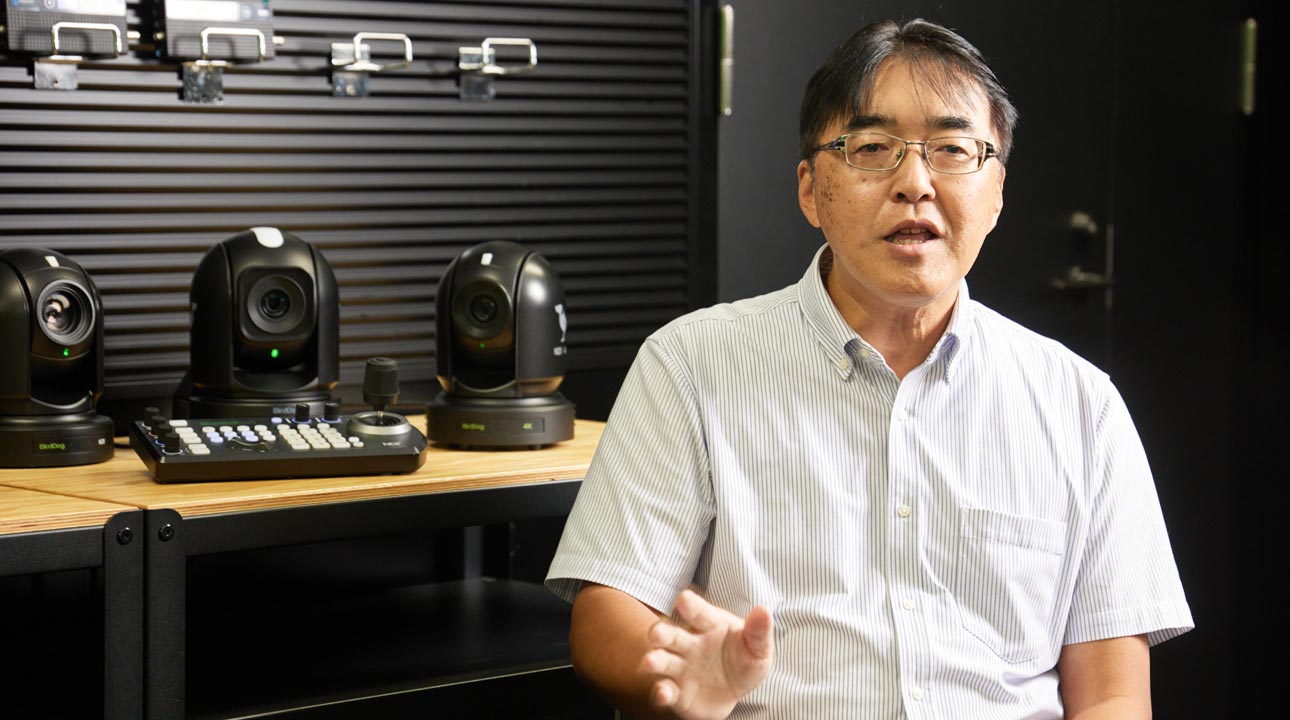 "AVITOK" Lineup
(Photo right) V429B4-NDI (Full HD model)

Market price: $1100

(Photo left) V449E2-NDI (4K model)

Market price: $2000

(Photo front center) C170 (PTZ camera controller)

Market price: $775
Question: What kind of company is AVITOK? Could you give me a brief introduction?
Mr. Yamamoto:
AVITOK is a video conferencing solution manufacturer headquartered in Shenzhen, China. We mainly develop PTZ cameras and controllers. We are a global company with bases all over the world and conduct sales activities around the world. From January 2023, Ask M&E has also started handling it in Japan.
–What kind of remote camera brands has ASK ME handled so far?
Mr. Yamamoto:
Ask M&E handles NewTek's TriCaster (merged into the Vizrt brand from September 2023), so we handle NewTek's PTZ cameras. We also carry products from Australian-based BirdDog, American companies PTZOptics and HuddleCamHD, and Taiwanese company AVer Information.
–With so many major brands available, why did you decide to carry AVITOK?
Mr. Yamamoto:
Ask primarily provides solutions for video production-related customers, including broadcast stations and the ProAV industry. There are already many PTZ cameras on the market, but we are aiming to differentiate ourselves by leveraging our long experience with NDI and adding NDI-compatible cameras to our lineup.
In fact, we found that more customers than we expected placed greater importance on cost performance than on high-performance cameras. In addition to NDI compatibility, AVITOK is equipped with an automatic tracking function, and its cost performance is considerably superior compared to other remote cameras. Therefore, we are thinking of actively promoting this product in our lineup.
–I had the impression that many of the remote cameras made by other companies in the 100,000 yen to 200,000 yen range had movement lags, but I didn't notice any such movement problems with AVITOK. Is there some secret around here?
Mr. Yamamoto:
The smooth and quiet pan and tilt movements have received high praise from many creators. I think this is due to the effect of using a high-precision drive motor.
AVITOK was originally a manufacturer that developed web cameras and surveillance cameras, and from there they started working on products for ProAV. Currently, we are also developing solutions for video conferencing systems.
–I think USB compatibility is also a key point. In the consumer web camera market, more and more companies are installing USB connectivity and AI automatic tracking functions. I thought that AVITOK could appeal not only to the professional market, but also to the general user market.
Mr. Yamamoto:
Our company is primarily targeting customers who use NDI, HDMI, and SDI, but as you said, the V429B4-NDI (Full HD model) can also be proposed to a wide range of customers as a camera that supports USB connectivity. is possible. When we first started selling it, we introduced it to ProAV and studios, but we have also received positive feedback from customers in a variety of fields, including general companies and educational institutions.
–AVITOK has a market price of around 300,000 yen ($2400), but it has a mode that automatically switches zones when a person to be tracked enters a preset zone (zone tracking mode), and a mode that continues to follow the person being tracked.
(Continued) Until now, most low-priced PTZ cameras had only one type of automatic tracking. However, there is no doubt that there will be a need to use it in zone mode today, and to track it in tracking mode tomorrow. With AVITOK, you can use either mode, my thinking is that customers would like this option.
Mr. Yamamoto:
The other day, I visited a school, installed cameras in the large hall and classrooms, and conducted a test using the automatic tracking function. Teachers who saw both the real-time (presenter) tracking mode and the zone tracking mode were impressed and praised the product as a low-priced product with reliable automatic tracking functionality.
Currently, the operation screen is only available in English, but we have adopted an intuitive design that is easy to understand even in English. Although we have just started sales, we hope to receive feedback and opinions from our customers and collaborate with manufacturers to provide products that better meet customer needs.
Furthermore, while many domestic PTZ camera manufacturers offer a PTZ controller as an option, many overseas brands do not offer a controller. We have received feedback that without a controller, you have to operate the camera from the web browser's operation screen, making it difficult to use. However, AVITOK has been well received by many customers when combined with the genuine controller. Regarding AVITOK, we would like to make proposals that include not only camera performance but also compatibility with the controller.
"BirdDog" Lineep
(Left photo) BirdDog Eyes P200

Market price: $2750

(Center of photo) BirdDog Eyes P240

Market price: $3500

(Photo right) BirdDog Eyes P400

Market price: $5550

(Photo front center) BirdDog Keyboard controller

market price: $2100
–BirdDog has a wide range of products, but please give us a brief introduction.
Mr. Yamamoto:
BirdDog's PTZ cameras are broadly divided into HD compatible models and 4K compatible models. In addition to the products introduced here, we have a wide range of products available. We also carry the BOX type NDI compatible camera "PF120", which features support for virtual PTZ function that combines 20x optical zoom and 16x digital zoom.
――BirdDog features native support for full NDI output. Could you tell us the difference?
Mr. Yamamoto:
BirdDog licenses NDI from NewTek for product development. Initially, we focused on converter products, but later we also started product development for PTZ cameras, resulting in our current product lineup.
While AVITOK uses NDI|HX, BirdDog is characterized by supporting full NDI with high quality and low latency. NDI|HX is suitable for transmitting video remotely to a studio via the Internet, but because of the compressed signal, the video quality during playback is said to be slightly degraded. On the other hand, full NDI is characterized by low compression with little deterioration and high quality. We believe that it will be possible to use them differently depending on the purpose.
–The new remote camera "X120" was announced at NAB 2023, and it seems to have significantly improved.
Mr. Yamamoto:
The "X120" announced at NAB 2023 features support for NDI|HX and the inclusion of a Sony CMOS sensor. The camera control software "Cam Control" has been released for free, and it has been announced that the automatic tracking function will also be provided free of charge in the future in the form of an add-on. I feel this is a very interesting camera.
The X120, like cameras such as the P240, has a tally lamp called a "Mohawk tally" on the top of the camera. Rather, it is a product mainly targeted at broadcast stations and ProAV, and although it is still under development, it is planned to support the FreeD protocol in the future. I think this is a necessary function for virtual production, so I expect it to be a model that supports FreeD at an attractive price range.
Additionally, an organic EL display is installed on the front, allowing you to check resolution and IP address information on the display. This eliminates the need to use tools to check each time.
–What kind of settings do you recommend AVITOK and BirdDog for?
Mr. Yamamoto:
AVITOK is characterized by its excellent cost performance, and is recommended for customers who want to try out a remote camera. We also believe that it is ideal for customers who already have a high-performance remote camera and want to install an additional remote camera at a lower cost.
On the other hand, BirdDog has high image quality and a tally function, so we believe it is suitable for those who are particular about image quality and those who shoot with multiple cameras. Additionally, we would like to recommend BirdDog to customers who require native full NDI.
–Where can I try the products introduced this time?
Mr. Yamamoto:
For product demonstrations, we have a showroom called "Acestar," which is stocked with products from manufacturers that our company handles. If you come here, you can touch the product directly and check its usability and functionality. Please feel free to contact us through our sales agents, our company sales offices, or the inquiry form on our website.
Ask M&E will also be exhibiting at Inter BEE 2023, which will be held at Makuhari Messe from November 15th to 17th. We will be exhibiting various PTZ cameras at our booth (No. 3209), so please come and see us.
–Is it possible to rent an actual device and try it out before purchasing?
Mr. Yamamoto:
Almost all of the PTZ cameras handled by Ask M&E have rental verification machines available for evaluation. You can rent it if you contact us.
■Inter BEE exhibition information
Booth name: AJA / Vizrt / Ask M&E AV over IP / MIM
Booth number: 3209
AVITOK and BirdDog products will be exhibited at the "Ask ME AV over IP" corner