Announcement of nominations for the audio equipment category
In addition to shotgun microphones and wireless microphones, the audio equipment division is a comprehensive division of audio and wireless, including recorders and intercoms.
Microphone-related products continued to boom in 2022. As a new move, Sony released a small gun microphone that can be completed with only an accessory shoe such as "ECM-G1" and "ECM-B10" and Canon "DM-E1D." It has been highly evaluated by users for its improved usability, such as direct transmission of digital signals and support for power supply sharing. There may be an increasing tendency to choose genuine gun microphones from camera manufacturers.
Microphone makers are not losing out either. Azden's directional microphone "SGM-250H" and Sennheiser's "MKE 400-II" series, which are easy to carry and have high quality, have been released, and it seems that they are becoming more mature.
Wireless microphones were released one after another from manufacturers other than microphone manufacturers. The "DJI Mic" and Hollyland LARK series have also appeared, and competition is intensifying here as well.
2022 was overwhelmingly exciting with the introduction of the ZOOM recorder "F3". The 32-bit float recording, which achieves no crackling, has been very popular, and it has become a hot topic that it has been difficult to obtain even if you want it. ZOOM has released a stereo shotgun microphone "M3" with a recorder function, which is also a hot topic.
The products nominated in the audio equipment category are as follows.
■DJI Mic
Suggested retail price: DJI official store price is 49,720 yen including tax
DJI Mic is a lightweight and compact wireless microphone system that can record from up to 250 meters away. The transmitter can clearly capture vocals, ambient sounds and instruments. With built-in storage, you can record main audio and record backup audio while recording. It comes with two transmitters, each with a built-in microphone, and these transmitters support omnidirectional audio recording. It can be used when interviewing multiple people or when operating in a small studio.
Azden SGM-250H
Release date: September 30, 2022
Suggested retail price: Open, estimated market price is 53,900 yen including tax
The SGM-250H is a super directional shotgun microphone with a total length of 250mm and phantom power. A long interference tube design to achieve sharper directivity, and the ECM unit is also a hypercardioid shotgun microphone with improvements based on those used in the SGM-250. Due to the hypercardioid characteristics, it is possible to pick up the target sound even in a field with a lot of ambient noise or in a venue with a lot of reverberation. An aluminum case is used for resistance and durability to RF noise, and a wide frequency response and excellent off-axis characteristics provide realistic sound pickup. A low-cut filter reduces unnecessary low-frequency noise such as motor noise. Equipped with a high-quality sound pickup.
■ Sennheiser MKE 400-II
Release date: January 27, 2022
Suggested retail price: Open, estimated market price is 28,600 yen including tax
The MKE 400-II is a compact, highly directional on-camera shotgun microphone. Directivity is achieved by an acoustic interference tube, which ensures pickup from the direction the camera is facing, resulting in clear sound quality. A shock mount capsule is used to minimize handling noise. The MKE 400-II has a built-in wind protection and a shock mount (shock absorption), further enhancing the functions to achieve high quality recording. By installing a mesh layer inside the housing for wind protection, noise countermeasures are possible with the main body alone.
■ZOOM F3 Field Recorder
Release date: January 2022
Suggested retail price: 35,000 yen including tax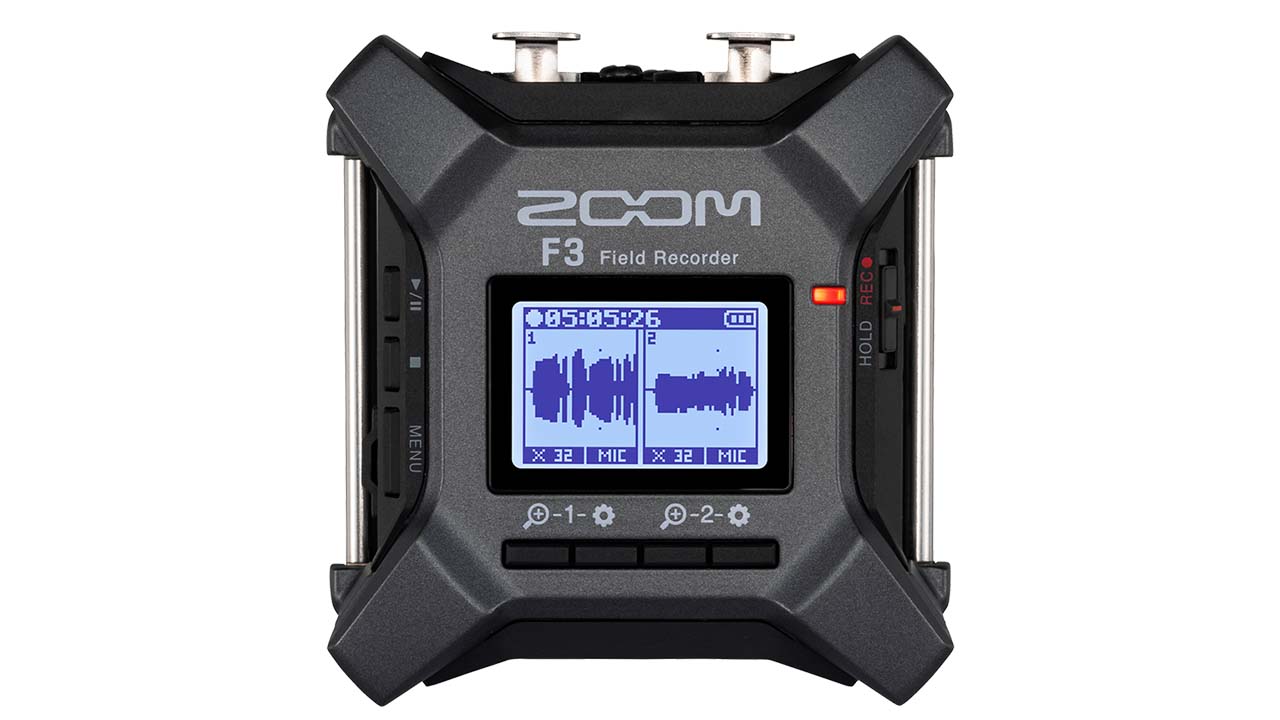 The F3 is a 2-channel input field recorder that supports 32-bit float recording. A field recorder for professional use with two XLR balanced inputs, developed with the aim of ensuring error-free recording. Achieves a high S/N ratio even with minute sounds. The input signal is recorded in a 32-bit float WAV format that retains the resolution at the time of recording, and even if normalization processing is performed after recording, the sound is reproduced without deterioration while maintaining the original resolution. With a combination of dual AD converters and 32-bit float recording, and a thoroughly simple design that prevents erroneous operation, anyone can simply press the REC button to enable audio recording without gain adjustment and without sound distortion.
■ Sony ECM-B10
Release date: July 29, 2022
Suggested retail price: 29,590 yen including tax
The ECM-B10 is a shotgun microphone with sharp directivity in a compact housing (79.3mm total length). In addition, by combining with the corresponding Sony α series, high-quality sound is realized while taking advantage of cableless and high mobility. Along with this, there is an increasing need to collect voices with higher sound quality. Inheriting the technology of the ECM-B1M, it achieves high-quality sound collection in a variety of shooting scenes with compact shooting equipment.
■Hollyland Solidcom C1
Release date: February 25, 2022
Suggested retail price: 143,000 yen including tax
Solidcom C1 is a simultaneous call wireless intercom headset system with DECT 6.0 encryption technology. The Master Headset provides reliable wireless communication with a line-of-sight range of up to 350m. If you don't want to use the master headset configuration, an optional base station can provide the same coverage. The battery-powered base station also offers additional features such as IP cascading of up to three systems, A/B grouping, and one-key mute and announce functions for instant communication with all headsets.
■Hollyland Lark M1
Release date: July 5, 2022
Suggested retail price: Hollyland official store price is 23,100 yen including tax
Lark M1 is a new wireless lavalier microphone system with a small body and charging case. The omnidirectional microphone can transmit up to 48kHz/16bit audio. Equipped with HearClear noise canceling, you can filter out ambient sounds to make your voice even clearer. The compact portable charging case doubles as charging and protection for the transmitter and receiver, allowing up to 8 hours of battery life and up to 20 hours of continuous operation for each transmitter and receiver unit.
OM Digital Solutions LS-P5
Release date: September 9, 2022
Suggested retail price: Open, estimated market price is around 23,000 yen including tax
LS-P5 adopted a new microphone system called "TRESMIC II," equipped with three large high-performance directional microphones capable of directivity control. By controlling the directivity of each microphone in a well-balanced manner, high-performance recording that is faithful to the original sound from low to high frequencies is possible, and even delicate sounds can be captured. In addition, it is equipped with a "zoom microphone" function that mixes the input from three microphones and adjusts the directivity up to 21 levels while maintaining the sound quality. In addition, the microphone has a high sound pressure resistance characteristic of 125dB SPL, and it is possible to faithfully capture sound without distortion even at high volumes such as airplanes and live houses and sound sources with a wide dynamic range such as classical music. there is
Below are the nominees for the audio equipment category.
■ PRONEWS AWARD 2022 audio equipment division finalist
DJI Mini
Azden SGM-250H
Sennheiser MKE 400-II
ZOOM F3
Sony ECM-B10
Hollyland Solidcom C1
Hollyland Lark M1
OM Digital Solutions LS-P5
The Gold and Silver PRONEWWS Award for 2022 in Audio is below:
PRONEWS AWARD 2022 Audio Equipment Category Gold Award
Hollyland Solidcom C1
Hollyland Product Director Chris Zhu commented on receiving the award.
It is a great honor for Hollyland that the Solidcom C1 has been recognized by industry leading media, PRONEWS, and received a gold award.

The impetus for this intercom product was a product interview held at the end of 2019 when a movie and TV rental customer said, "We don't have the right tool product to support efficient communication between staff on set." did. Therefore, the HOLLYLAND team conducted market research and technical discussions, and clarified the demand scenario and development plan for a headset for calls.

During this time, there were various difficulties, such as technical barriers, product form factor, performance and weight balance, and even supply chain issues between Corona. There were ups and downs, but we were able to build the "Solidcom C1" with excellent performance over the course of two years.

The most impressive was the technical breakthrough with DECT 6.0. Some suppliers also claim to have adopted this technology, but rather than keep this technology in rudimentary use, we are maximizing its potential and increasing concurrent call capacity from the core level. , and significantly improve communication distance, stability, and sound quality, aiming to surpass leading European and American brands with comprehensive strength. This feature has been very well received by our customers. While other industry partners' master headsets can only control up to 5 remote headsets, Solidcom C1's master headset is upgraded to easily carry 7 remote headsets. In addition, in the field of distance and sound quality, Hollyland's experience in wireless audio and video transmission technology has been used to achieve stable transmission and excellent sound quality experience in ultra-long distances.

In addition, we have also carefully selected materials for the headset, finally choosing a lightweight and durable composite material, and providing various application options such as detachable ear cups to enhance the user's wearing comfort.

After its launch, Solidcom C1 was quickly understood and experienced by target users such as local film and TV producers and commercial teams in Japan through in-depth promotions by many media partners such as PRONEWS and promotions by Japanese agency partners. It has been used at the shooting site and has received a lot of good comments. We would like to thank everyone for their daily support and trust, and we will continue to work on developing better products to enhance our creativity.
PRONEWS AWARD 2022 Audio Equipment Category Silver Award
ZOOM F3
Upon receiving the award, we received comments from the ZOOM F3 development team.
The entire development team is very honored that the ZOOM F3, which was developed with the desire to bring the appeal of 32-bit float recording to as many customers as possible, was recognized.

The F3 is a product developed with the aim of making recordings without mistakes. In addition to dual AD converters that do not require gain settings and a 32-bit float recording function, the HOLD key to prevent erroneous operation and integrated REC key, simple operability to prevent operation errors, and enhanced robustness are all features that make it possible to avoid mistakes. We didn't settle for a "don't do it" approach. Thanks to that hard work, we were able to develop a product that we can recommend with confidence.

Lastly, I would like to leave a message to our readers. The ZOOM F3 is compact and sturdy, and does not distort the sound unless it is clipped on the microphone side. I would like you to use it at various sites.