DJI has released the "DJI Air 3" drone, equipped with two main cameras, a new addition to the Air series. The prices on the DJI online store are as follows.
DJI Air 3 (DJI RC-N2):

$1,099

DJI Air 3 Fly More Combo (DJI RC-N2):

$1,349

DJI Air 3 Fly More Combo (DJI RC 2):

$1,549
Two main cameras capture images that make the subject stand out
DJI Air 3 is the first model in the Air series to have two main cameras. The DJI Air 3 has a compact body with a sophisticated appearance is equipped with a wide-angle camera and a medium-telephoto camera that supports 3x zoom, both of which use a 1/1.3-inch CMOS sensor. Both cameras have the same sensor size, so users can shoot with the same image quality regardless of which camera you shoot with, and because the focal lengths are different, you can shoot with various compositions.
Wide angle camera
Medium telephoto camera with 3x zoom
2.4 μm pixel size
equivalent to 24 mm focal length
f/1.7 aperture
2.4 μm pixel size
equivalent to 70 mm focal length
f/2.8 aperture
Camera performance that brings out each other's charm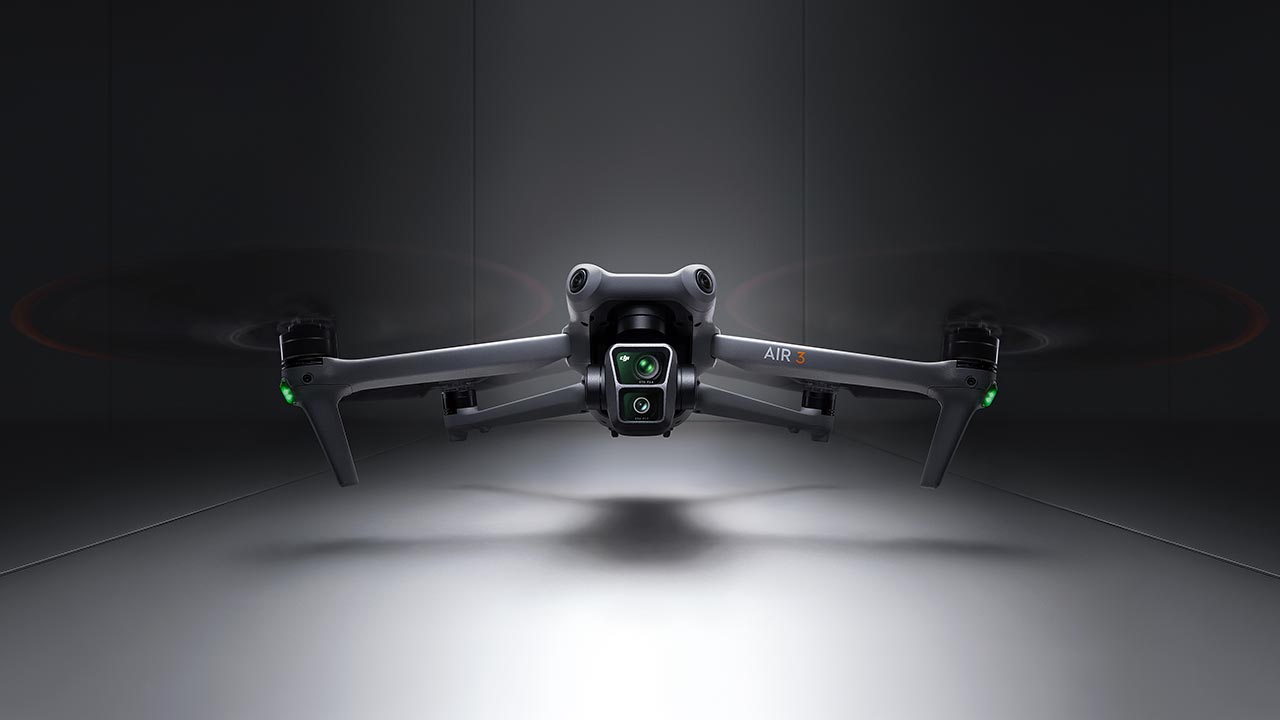 A wide-angle camera allows users to more fully capture epic landscapes. When used with a mid-telephoto camera, the 3x lossless optical zoom creates a compression effect, allowing unique perspectives on any subject.
By using the wide-angle FOV of the wide-angle camera, capturing the vast scenery in the frame is easier. Both cameras support 48MP photography, allowing users to capture every detail with the clarity you see, giving you more freedom to crop in post-editing.
DJI Air 3 4K60fps HDR video recording
The 1/1.3-inch CMOS sensors on both DJI Air 3 cameras support dual native ISO and can output 4K 60fps HDR video directly, without cropping. As a result, images shot with either camera can express rich colors and natural gradations of light.
The two cameras mounted on the aircraft support 10-bit D-Log M and 10-bit HLG color modes. 10-bit D-Log M captures the bright and dark areas more delicately, enabling flexible editing. 10-bit HLG, on the other hand, offers greater dynamic range and excellent imaging performance, even without color grading.
Longer flight time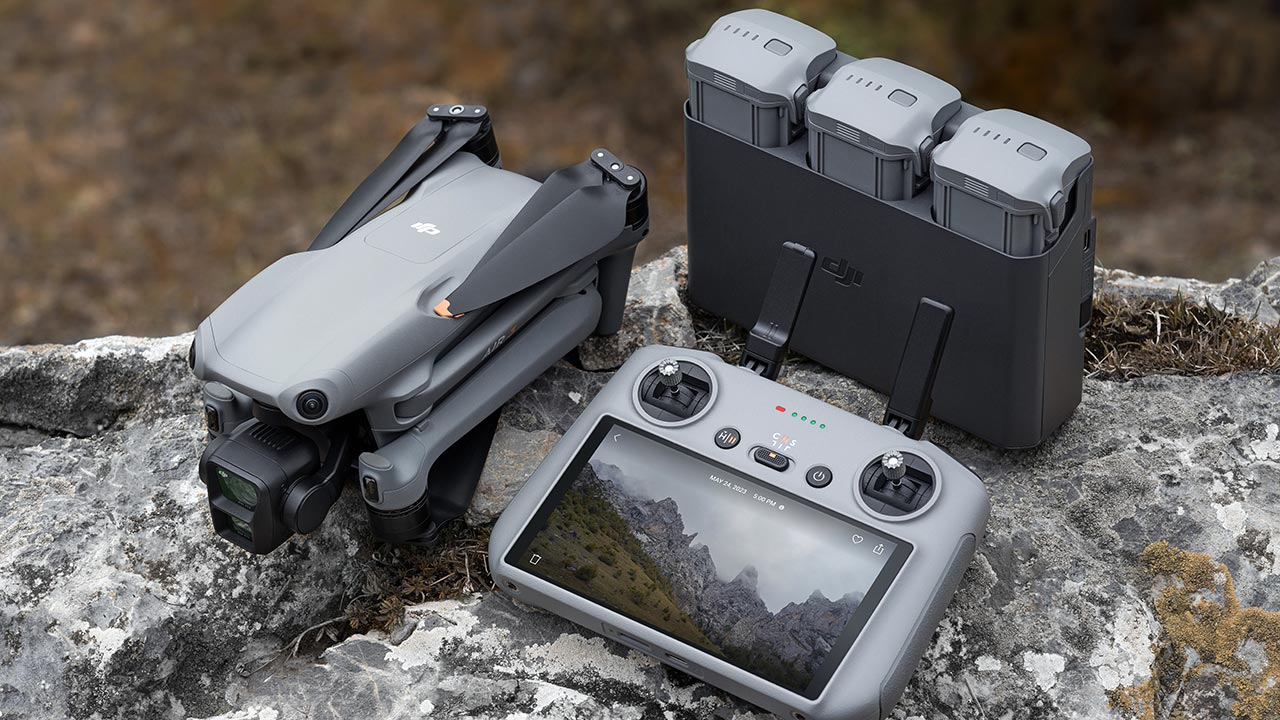 Compared to the previous model in the Air series, the DJI Air 3 has a 48% longer flight time and can fly up to 46 minutes. Pilots can have peace of mind knowing they have plenty of time to find the perfect location and adjust composition in a single flight.
In addition, the new battery charging hub supports the current collection function. A long press on the function button will move the charge of multiple batteries to the battery with the highest charge. Even in situations where the charging environment is not in place, such as hiking in the mountains or forests, the flight time is extended and more efficient, making it possible to enjoy flying freely and flexibly.
Safe takeoff and landing with omnidirectional obstacle detection and O4 HD video transmission
DJI Air 3 is the first Air series with omnidirectional obstacle detection. The drone can grasp the situation of the entire surrounding environment, and the drone can detect obstacles in all directions. The drone is equipped with two fisheye lenses on the front and rear of the drone for front/back, left/right, and top detection, and a binocular lens and 3D ToF sensor on the bottom for powerful omnidirectional obstacle detection.
Omnidirectional obstacle detection
An omnidirectional obstacle detection system provides a comprehensive view of the surrounding environment, allowing DJI Air 3 to detect obstacles in all directions. When obstacles are detected, DJI Air 3 uses APAS 5.0 to avoid obstacles with smooth movements and provide an overall safer flying experience. With this superior safety feature, even first-time pilots can fly with confidence and carry out their creative photography ideas with peace of mind.
O4 HD video transmission
DJI Air 3 adopts the next-generation O4 HD video transmission system, demonstrating greatly evolved transmission performance. It can transmit up to 20km transmission distance, improved stability, and live video up to 1080p/60fps, providing super smooth video and smooth operation.
Advanced RTH
When performing Smart RTH, DJI Air 3 will automatically plan the optimal flight route, perform Advanced RTH, and omnidirectional obstacle sensing will continue to work during return, allowing you to return to your home point quickly and safely. .
Infinite creativity with intelligent features
Both cameras support focus tracking
Focus Track is a feature that keeps the subject in the center of the frame easily. Focus Track can also be used with a medium-telephoto camera that supports 3x zoom, and the unique compression effect makes the subject stand out. By combining this latest tracking performance with omnidirectional obstacle detection, you can shoot smartly and systematically anytime, anywhere.
Quick shot
With QuickShots, DJI Air 3 offers creative camerawork like Rocket, Dronie, Circle, Helix, Boomerang, and Asteroids.
2.7K portrait shot
Both cameras in the DJI Air 3 support vertical shooting of 2.7K footage. The wide-angle camera can shoot images with a wide angle of view that contain a wealth of visual information, while the medium-telephoto camera captures the subject boldly and creates impressive vertical aerial shots. The 2.7K vertical images, which are directly cut out from images taken with a CMOS sensor with an aspect ratio of 4:3, are optimized for smartphones and can be immediately shared on SNS.
Master shot
With the master shots function, DJI Air 3 automatically performs various camera moves to capture multiple clips. After capture, users can cut the video, edit it with music and effects, and easily create a cinematic video.
Night mode
The noise reduction algorithm allows shooting of noise-free video at up to 4K 30fps even in low-light environments.
Hyperlapse
Four modes are available for capture: free, circle, course lock, and waypoint to shoot time-lapse videos. (Landscape: Max. 4K, Portrait: Max. 2.7K)
Slow motion
There is a choice between either 4K100fps or 1080p/100fps and shoot 4x slow motion video directly.
SmartPhoto 3.0
In Single Shot Mode, DJI Air 3 defaults to SmartPhoto 3.0, which automatically selects between HDR, Hyperlight, and Scene Recognition to capture the best aerial photos for your shooting scenario. The HDR DNG format makes full use of the camera's built-in contrast enhancement technology to record a wider dynamic range. In addition, the image file boasts JPG-level image quality with post-editing software, making post-editing easier.
Quick transfer
Quickly and easily download photos and videos from the aircraft to your smartphone via a wireless connection.
LightCut App
DJI Air 3 can be wirelessly connected to the smartphone app LightCut, and features such as one-touch editing allow you to edit your footage creatively. You don't need to download all the footage while editing, which saves storage space on your mobile device.
One-touch editing: Automatically recognize composition and flight path, automatically select clips based on composition and camera movement, automatically apply templates and sound effects suitable for scenes, and easily create cinematic images to generate
Tilt-shift effect: With one-touch operation, you can use an interesting effect that makes the landscape in the video look like a miniature landscape. Applying it to images shot with a medium-telephoto camera that supports 3x zoom will produce an even more impressive effect.
Waypoint
DJI Air 3 is the first drone in the Air series to support the waypoint function. If you plan the flight route and shooting actions in advance, difficult camera work will be automatically executed, and you can shoot amazing quality footage in one take. You can also save flight routes and perform the exact same camerawork at different times of the day or on different days to capture unique long-duration time-lapse footage, such as day to night or seasonal transitions. .
High-performance accessories and services that further improve flight performance
DJI RC2
The DJI RC 2 remote controller features a 5.5-inch full HD display, powerful processor, and O4 HD video transmission system for seamless and enhanced flight.
DJI RC-N2 Remote Controller
The DJI RC-N2 transmitter adopts the next-generation O4 HD video transmission technology to deliver powerful performance.
DJI Air 3 Battery Charging Hub
The battery charging hub rapidly charges three batteries in sequence, and can also charge devices such as transmitters and smartphones. In addition, the power of the battery with the lowest remaining battery power can be transferred to the battery with the highest remaining battery power, helping you to fly longer even in places where the charging environment is not sufficient.
DJI Air 3 Intelligent Flight Battery
This batter has a flight time of up to 46 minutes with DJI Air 3. Explore different locations and experiment with different shooting possibilities in a single flight.
DJI Air 3 ND Filter Set
The set comes with ND8/16/32/64 filters to ensure smooth footage even at slow shutter speeds.
DJI 100W USB-C Power Adapter
This power adapter can quickly charge the battery and transmitter at the same time. It can also be charged with USB-C.
DJI 65W Car Charger
This lightweight and highly portable car charger is equipped with a universal port. It can charge devices such as batteries, transmitters, smartphones, and laptops.
DJI Care Refresh
It offers affordable product replacement, DJI Care Express, Flight Lost Guarantee, free shipping, dedicated technical services, and more.