What is ATOMOS' new cloud service "ATOMOS Cloud Studio"?
ATOMOS Cloud-Based New Service "ATOMOS Cloud Studio" Free Beta Released
ATOMOS is a video technology company that has made waves in the video industry with its portable monitoring and RAW recording. The ProRes RAW recording support that realized the RAW video workflow with a mirrorless camera, which was only available in the production of theatrical release works, is too famous. ATOMOS is trying to bring about innovation in the video industry again with the "cloud" that is the trend of the video industry in 2023.
ATOMOS' new service "ATOMOS Cloud Studio" is a setup portal that allows you to set the function to recognize devices from the cloud and the destination of videos and streaming recorded in the cloud. A free beta version is now available.
The appeal of ATOMOS Cloud Studio is that you can set YouTube, Frame.io, etc. as the destination. ATOMOS Cloud Studio has an item called destination that defines the destination, and options such as YouTube, Twitch, and Dropbox are possible. As one of them, it is possible to choose Frame.io, which is becoming a hot topic these days.
NINJA V+, NINJA V, and SHOGUN can simultaneously record high-quality original files and proxy files to the SSD, and the proxy files are automatically transferred to Frame.io for sharing with various people. You can check it on your smartphone's browser without the application.
In addition, the proxy file can be downloaded, and you can create a complete package in advance with the proxy, upload it to Frame.io, and exchange confirmation with the director etc. on the client. It is convenient to be able to efficiently produce original content by linking the high-resolution original file at the stage of OK.
If you select SNS as the destination, you can live stream to various social platforms including Facebook Live, Twitch, YouTube, and Custom. ATOMOS Cloud Studio also has a monitoring function, so you can check what content is being delivered in your browser.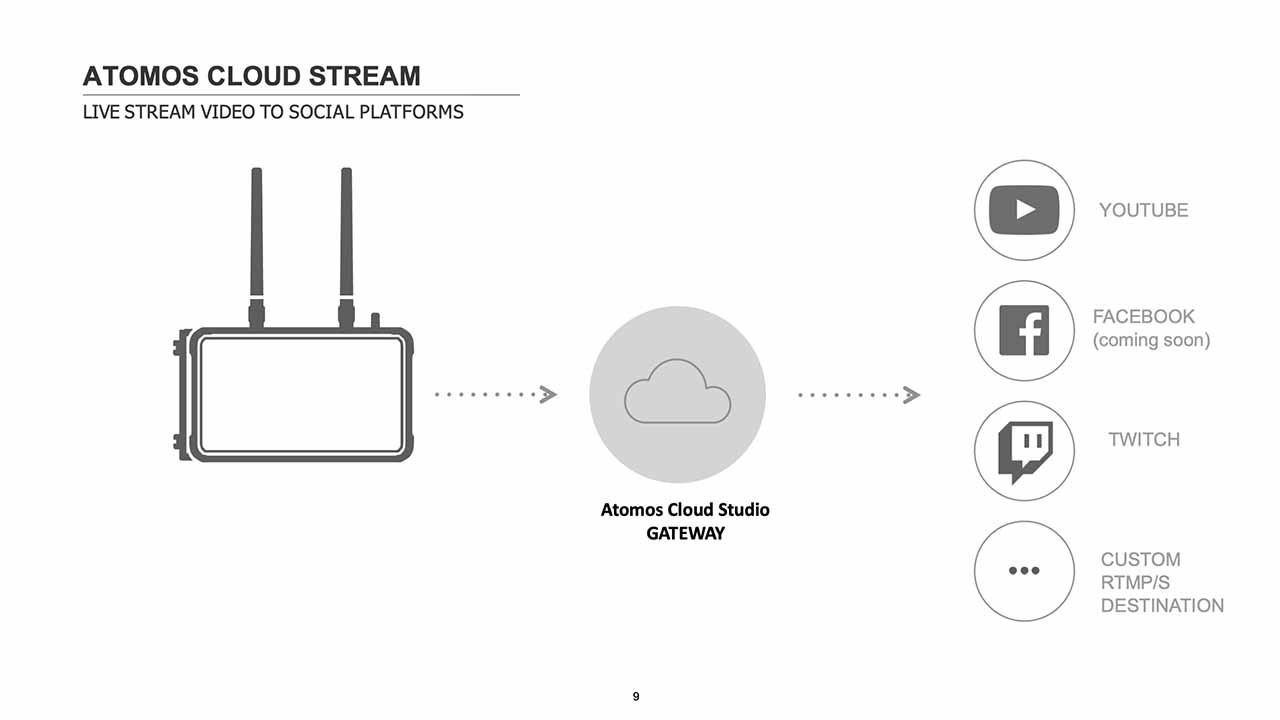 However, distribution to SNS does not support distribution of recorded video. Distribution corresponds only to video input. Back-up recording of distributed video is possible on the ATOMOS recorder side.
Lineup of 3 types of cloud-enabled devices
ATOMOS Cloud Studio supports three types of CONNECT devices: "ZATO CONNECT", "ATOMOS CONNECT for NINJA V/V+", and "SHOGUN CONNECT".
ATOMOS CONNECT for NINJA V/V+ and SHOGUN CONNECT can record the original file at the same time as the proxy. ZATO CONNECT is only a proxy and basically does not have a recording function equivalent to the original file. As for encoders, ATOMOS CONNECT for NINJA V/V+ and SHOGUN CONNECT are compatible with H.265, and ZATO CONNECT is H.264.
If you want to record original content, use an external monitor recorder, and use CONNECT functions, we recommend ATOMOS CONNECT for NINJA V/V+ or SHOGUN CONNECT. When not using the CONNECT function, you can also use ProRes RAW, and you can use the same functions as the previous NINJA V and NINJA V+.
ZATO CONNECT is equipped with proxy record recording, but it is recorded in H.264. If anything, it can be said that it is for consumers.
ATOMOS Cloud Studio will launch its subscription version starting March 23, 2023. The free plan allows access to Frame.io and streaming to Facebook, YouTube, etc., but proxy quality goes from FHD 1080P to HD 720P. The new ATOMOS Cloud Studio has 4 monthly plans, and more functions can be added.
In Vol.02, we plan to report on the actual site using ATOMOS Cloud Studio. Stay tuned!