Contents
RAID booth report "POLARIS"
Live / Cinematic Super Multi-Camera System POLARIS
Birth of POLARIS
What are the notable points of POLARIS?
Thoughts on Made in Japan in POLARIS
RAID booth report "POLARIS"
Live / Cinematic Super Multi-Camera System POLARIS
The POLARIS RD-QX1 and POLARIS RD-QX100 jointly developed by RAID, which handles RED Digital Cinema distribution in Japan, and PROTECH (Nippon Video System) was exhibited for the first time at the NAB2023 venue. POLARIS is an optical transmitter for cameras compatible with RED Digital Cinema's DSMC3 series. Everything can be controlled from the base station.
POLARIS RD-QX1 and POLARIS RD-QX100 can be used in the same way as system cameras for broadcasting, live events, and sports event production using RED. In particular, live color grading can be performed through AJA's ColorBox, reflecting the voice of the field. It seems that many inquiries for the POLARIS have already been received. At the same time, RED also announced "RED Connect" and it was impressive that it was introduced at the NAB2023 venue. For this article, we interviewed Masayuki Itakura, CEO of RAID.
Birth of POLARIS
――Please tell us about the development process of POLARIS for RED. Combination of RED V-RAPTOR and POLARIS built for broadcasting
Mr. Itakura:
At our booth at Inter BEE 2022, we demonstrated real-time display of 8K video, which is the base of RED Connect. At that time, we received many inquiries about live systems with RED cameras, and after conducting market research, we found that RED Connect's IP-based RED RAW data post-transfer workflow and conventional SDI signal-based , can it be used like a normal broadcasting camera with almost zero delay? This project was born out of this need.
We received development cooperation from PROTECH, which has the most achievements in Japan, collaborated, announced and exhibited at the timing of NAB2023.
――There was a time when RED also released broadcast products.
Mr. Itakura:
You know that very well. As for the history of RED, after the release of RED ONE, there was a broadcast module at that time, but there is a history of withdrawal. POLARIS has specifications that are close to broadcasting.
――Are people in the TV industry not familiar with RED cameras?
Mr. Itakura:
That may have been the case in the past, but the market landscape is starting to change as more people move between industries like film, Netflix and TV.
We asked RED to release the broadcast module from the DSMC1 era in DSMC2, but RED's basic stance is that it is a cinema camera, so there is a past that it was not commercialized.
With the arrival of DSMC3, the trend of camera diversification has reached RED, and I think that the POLARIS fiber optic system will change that situation even more dramatically. To be honest, I am surprised at the number of inquiries from not only Japan but also the United States and many other countries who want to exhibit at NAB2023 and use RED cameras in a wider range of fields.
POLARIS satisfies many requests for remote control at various video production sites such as overseas dramas and sports, and also satisfies requests for sending SDI, adjusting colors with SDI, and outputting live as it is. In addition to broadcasting, we believe that it can be used in a variety of ways, such as shooting RED in the same way as before, mounting it on a gimbal and transmitting it through optical fiber.
――I see. What kind of price range are you interested in?
Mr. Itakura:
The price is undecided at this time (April 19, 2023). The sales date is scheduled for May 2023, with PROTECH in charge of manufacturing and RAID in sales.
Each customer has different specifications, and we believe that it will be a custom-made system that adds functions from the basic base configuration as an option. For example, the RED V-RAPTOR SDI has 12G and 2 outputs, but there are customers who are fine with 1 output. This is because each person has different needs, such as no other sound or no intercom.
The basic configuration of POLARIS is a camera adapter, base station, and optical fiber. We think that we can offer a total of 2,000,000 yen or less for the basic asking price. As an option, it is also possible to incorporate Protech's unique technology such as camera operation function and iris remote control function.
What are the notable points of POLARIS?
Through AJA ColorBox, you can also use the Colorfront engine for color grading
――POLARIS is RAID's first system product. What are the points of particular interest?
Mr. Itakura
Actually, there are detailed original products such as camera accessories, but this is the first time for such a system.
POLARIS's catchphrase is "Live / Cinematic Super Multi-Camera System". There's a RED camera, and there's a fiber optic system there to transfer the footage. Furthermore, it is highly expandable with lens control, focus zoom, and iris control.
Among them, it is a key point for color grading. ColorBox was released by AJA at just the right time, and we can use the Colorfront engine.
There are live mode and broadcasting mode in this, and I think that you can use it interestingly by doing it in broadcasting mode. This style has an image of a broadcasting system, but I think that you can pay attention to the fact that it is connected to the grading set.
――How do you separate yourself from RED CONNECT?
Mr. Itakura
RED CONNECT has a use in RED CONNECT. We also sell RED CONNECT, but if you are aiming for an SDI workflow, we will introduce POLARIS.
In the midst of shooting R3D in RAW and processing it, one of the keywords for this year is the cloud. However, the cloud is not considered at all in POLARIS.
Thoughts on Made in Japan in POLARIS
――Please tell us the origin of the name POLARIS.
Mr. Itakura
There are many twists and turns, so I decided to name it after a star, and become a central existence that can be seen everywhere. Maybe the next one will go with the same star name. It's like RAID's original product or something like that.
POLARIS has another meaning. I would like to promote Made in Japan overseas.
Until now, not only RED, but also Teradek, SmallHD, etc., the products we handle are dominated by imported products, and to be honest, we didn't have the luxury.
However, this time there is this need, and I think that this is a critical moment and opportunity. You dared to exhibit at NAB instead of Inter BEE. If you want to spread Made in Japan in the market, you just have to make a presentation overseas. So I thought that NAB exhibition would be the start.
――Does that mean you want to become a manufacturer?
Mr. Itakura
If you call it a manufacturer, it's fabless. We are receiving inquiries from countries other than the United States. What I learned this time was that there are many people who love RED.
There are many people who enthusiastically talk about wanting to work at RED. I think it's common all over the world, but I guess there's a love for RED. There is a sense of camaraderie, and I feel that we can create a sufficient community.
――Please tell us about the future of POLARIS.
Mr. Itakura
As you all know, RED currently has a lineup of KOMODO, V-RAPTOR (VV), V-RAPTOR (S35), V-Raptor XL (VV), and V-Raptor XL (S35). RED's Under Development mindset hasn't been lost, and cameras continue to evolve, with the next generation being released according to needs. Along with this evolution, our POLARIS will also evolve in a way that meets the needs of our customers. What features do you really need? If you have a request, we will respond to it with a powerful partner company that has a lot of knowledge, patents, and achievements.
This will be the starting product, but I think it will be a system that we can use for a long time. We hope that you will take good care of us.
POLARIS Live / Cinematic Super Multi-Camera System 
"POLARIS" is an optical transmitter compatible with RED V-RAPTOR 8K S35 and RED V-RAPTOR 8K VV + 6K S35. The RD-QX1 (camera adapter) and RD-QX100 (base station) form a single camera system. Each is equipped with a USB-Type C to transmit remote control signals and power. This enables RED CONTROL, 2 SDI transmissions (12G-SDI compatible), and 2 AES/EBU transmissions from the RD-QX100 (base station) to the RD-QX1 (camera adapter).
"POLARIS RD-QX1" camera adapter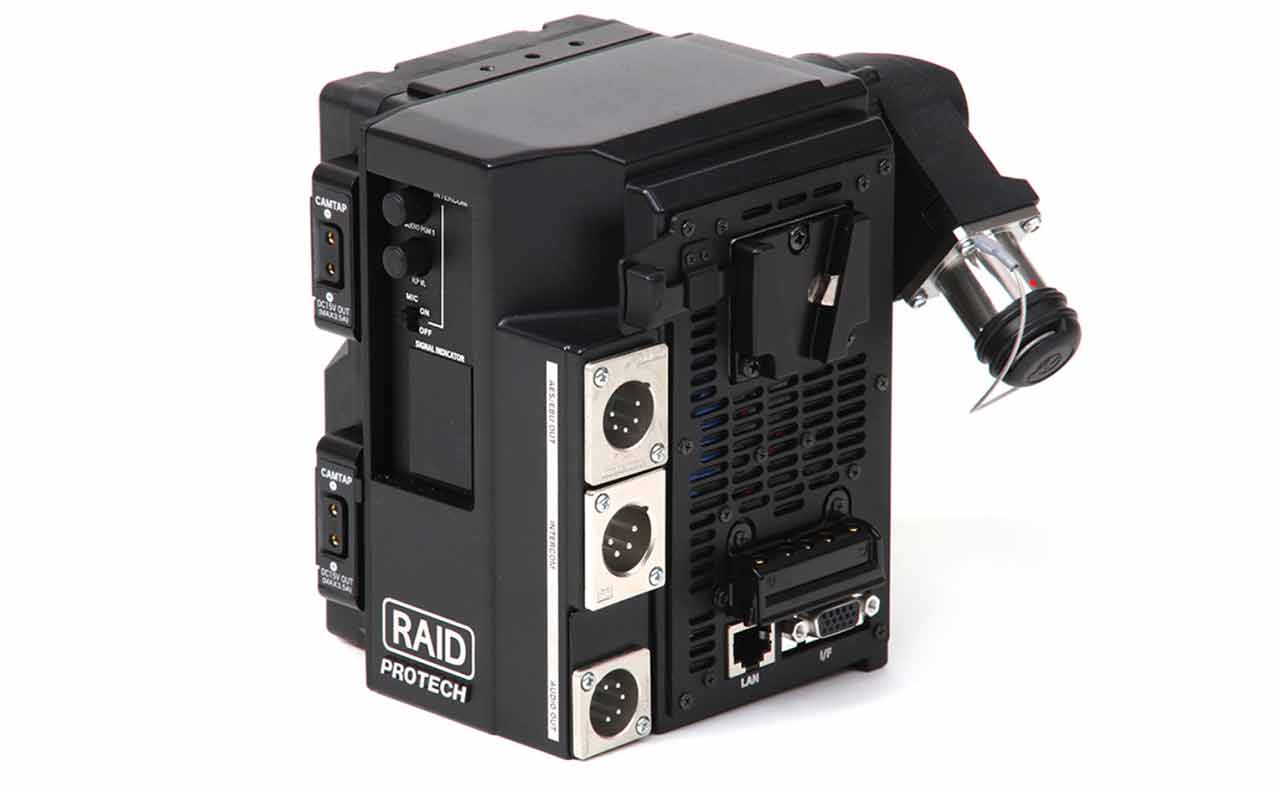 Camera adapter "RD-QX1". RED camera control is possible, it has RCP protocol input, SDI x 2 system, tally return, and intercom input. All signals are aggregated and transmitted to the base station with a single optical transmission cable, and power is supplied from the base station.
POLARIS RD-QX100 Base Station
Data is transmitted from the camera to the base station RD-QX100. SDI OUT can also be used for color grading and live grade through AJA's ColorBox. You can do all the color control, and you can also remotely control it. Demand is also included, and you can control both zoom and focus. The iris control can also be controlled entirely from the base station.